Selective Soldering System offers high-precision jet-fluxing.
Press Release Summary: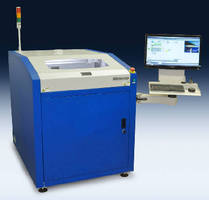 Featuring laser-controlled wave height compensation, Model IS-T-300 handles double-sided and mixed technology PCBs up to 300 x 500 mm, with option for 460 x 700 mm. All-titanium solder pot and pump assembly, compatible with lead-free or eutectic solder, is mounted to X/Y/Z-axis drive mechanism for repeatable, point-to-point and continuous soldering. With 3–14 mm diameters, 360° wettable nozzles produce miniature waves that can be programmed to 0.5 mm minimum clearance from adjacent components.
---
Original Press Release:

New Selective Soldering System from Manncorp for Under $60K



Manncorp's new IS-T-300 Selective Soldering System will be on display at booth #3732 of the IPC APEX EXPO in San Diego, Feb. 24-26.



The IS-T-300 from Manncorp is an all-in-one selective fluxing and soldering system designed to deliver outstanding quality and consistent, efficient performance at a price point that insures a quick return on investment.  For only $59,995, the IS-T-300 comes fully-equipped with advanced features like laser-controlled wave height compensation, high-precision jet-fluxing, and CAD data import.  The IS-T-300 handles double-sided and mixed technology PCBs up to 300 x 500 mm, with an option for 460 x 700 mm boards. 



An all-titanium solder pot and pump assembly, compatible with either lead-free or eutectic solder, is mounted to a heavy-duty, X-, Y-, Z-axis drive mechanism for highly repeatable, point-to-point and continuous soldering.  360° wettable nozzles with diameters from 3 mm to 14 mm produce ultra-precise, miniature waves that can be programmed to a 0.5 mm minimum clearance from adjacent components.  The nozzle body is designed to inject preheated nitrogen from a high-purity source and to fully shroud the wave for high-integrity, oxidation-free solder joints.



A Microdrop Jet-Fluxer is also included and dispenses precisely measured points or continuous streams of alcohol- or water-based flux through a 0.2 mm nozzle.  High-grade stainless steel construction withstands even the most aggressive fluxes.  Selective fluxing, customized to each connection, insures proper wetting and dramatically reduces flux consumption and excess residue.  The fluxer is also mounted to the X-Y drive and, like the solder pot, can reach speeds up to 400mm/s. 



CAD data or scanned images of the PCB are easily imported into Windows7 software that allows simple click-and-drag programming of points or continuous paths both on- and off-line.  To prevent bridging in difficult areas, angled "pull-off" functions with reduction of solder flow are integrated into the software to simplify programming. 



Through the end of March, Manncorp is offering free, on-site installation and training on the IS-T-300, which is also backed by a full two-year parts warranty and unlimited factory support. 



For nearly five decades, Manncorp has supplied electronics manufacturers with the world's best values in PCB assembly equipment, direct to the customer, at the industry's most competitive prices, and with full service and support.  Offices in three locations: East (Huntingdon Valley, PA), West (San Diego, CA) and Mexico.  



Paulette Kevolic

Marketing Coordinator

215-830-1200

pkevolic@manncorp.com





More from Packaging Products & Equipment