Selective Soldering System features benchtop design.
Press Release Summary: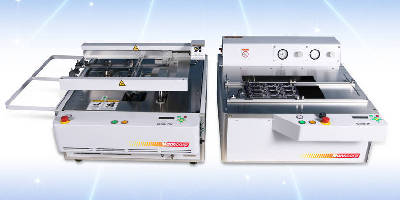 Suited for companies that hand solder through-hole components on PCBs, ULTIMA TR2 is equipped with 35 lb-capacity solder pot that handles lead-free or Sn/Pb solders. Integral nitrogen hood with micro pre-heater inerts solder site and stabilizes wave temperature, while 3-axis drive mechanism moves PCB with positional accuracy of ±0.01 mm. Point-to-point and drag soldering functions, along with solder pump speed, wave height control, dip height, and dwell parameter settings, are fully programmable.
---
Original Press Release:

Precision Benchtop Selective Soldering System from Manncorp Improves Quality & Efficiency



Companies that are hand soldering through-hole components on surface mount & mixed-technology PCBs can speed up the process, achieve consistent results and improve product quality and reliability with the ULTIMA TR2 selective soldering system.



Manncorp's new ULTIMA TR2 selective soldering machine offers superior performance in a compact, benchtop design and at a price point that puts its advanced features within reach of low- to medium-volume assemblers.



TR2's 35-lb-capacity solder pot handles lead-free or conventional Sn/Pb solders while an integral nitrogen hood with micro pre-heater inerts the solder site and stabilizes the wave temperature. Point-to-point and drag soldering functions, along with solder pump speed, wave height control, dip height and dwell parameter settings, are fully programmable to ensure perfect, highly repeatable solder joint quality. A high-precision, three-axis drive mechanism moves the PCB rather than the solder pot, providing a positional accuracy of ±0.01 mm.



Operators are able to monitor live video of the soldering process on their laptop or PC via the included bottom-side "witness" camera.



The TR2 works in conjunction with the ULTIMA SP benchtop fluxing system. Separating the fluxing and soldering functions between the two machines provides faster throughput and more reliable, higher quality results. The SP applies flux precisely where it's needed using high-precision, low-pressure air/flux atomization nozzles. A single SP fluxer can support up to three TR2 selective soldering systems.



The savings in manual labor costs and increased product quality provide a fast return on investment. Learn more at www.manncorp.com/selective-soldering/



Sales and support offices in three locations: East (Willow Grove, PA), West (San Diego, CA) and Mexico. www.manncorp.com



Paulette Kevolic

Marketing Coordinator

215-830-1200

pkevolic@manncorp.com

More from Sensors, Monitors & Transducers