Selective Soldering Nozzles work with Pillarhouse equipment.
Press Release Summary: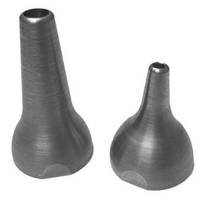 Available in ID threaded versions, Pillarhouse AP universal nozzles for selective soldering machines are constructed of steel alloys, precision machined, and available in standards sizes from 2.5–14 mm. Identification marks are available for distinguishing leaded and lead-free versions, and custom selective solder nozzles are also available based on specific application requirements: wave form sizes, multi-port, and extended or shortened lengths.
---
Original Press Release:

Count On Tools Expands Selective Soldering Nozzles for Pillarhouse Equipment



GAINESVILLE, GA — Count On Tools Inc. (COT), a leading provider of precision components and SMT spare parts, announces that it now offers ID threaded versions of the Pillarhouse AP universal nozzles for its entire line of selective soldering machines. COT offers the OD threaded versions of the nozzles as well.



As Selective soldering becomes more popular in the electronics manufacturing industry, COT has realized the need for higher quality selective solder nozzles that can consistently apply flux and solder to component leads without disturbing nearby SMT components. By utilizing superior steel alloys made in the USA, along with the latest precision machining technologies, COT is able to produce selective soldering nozzles that have been proven to be more durable and last longer than those from the OEM, while still maintaining all of the original design properties.



The nozzles are available in all standards sizes; from 2.5mm to 14mm. Count On Tools also can provide identification marks that enable customers to easily identify leaded nozzles from lead-free versions. Additionally, COT offers custom selective solder nozzles based on specific application requirements. This includes special wave form sizes, multi-port and extended or shortened lengths.



"Our goal with this product line is to offer our customers a more cost-effective selective solder nozzle that will not only last longer than conventional nozzles, but will also outperform OEM nozzles in terms of accuracy and consistency," said Zachery Shook, Marketing Director at Count On Tools, Inc. "It is our obligation to assist customers that wish to incorporate lean manufacturing into their operations by offering solutions that allow them to automate processes and become more streamlined in the production of circuit board assemblies."



All nozzles are guaranteed to function properly with the original equipment. Every selective solder nozzle manufactured by Count On Tools comes standard with a 100 percent satisfaction guarantee. If any customer is not 100 percent satisfied with the performance or quality of a product, Count On Tools will replace it or offer a full refund.



For more information, speak with a company representative in Booth #725 during the IPC APEX EXPO or visit www.cotinc.com.



About Count On Tools Inc.

Count On Tools Inc., a precision component manufacturer specializing in all aspects of the machining industry, has been setting new performance standards in the SMT pick-and-place nozzle market since 1991. As the ORIGINAL source for high-quality, low-cost vacuum placement nozzles and associated consumables, they have pioneered with world-class development and process engineers that combine to ensure that innovation and competitiveness is applied to all of its extensive product range. The company also stands behind its products 100% with a full warranty. Count On Tools' products are in use at many of the world's leading electronics manufacturing companies. Proven engineering expertise, coupled with the latest in design and manufacturing technology, has allowed the company to simplify the complexities of the industry and deliver a solution to its customers.



The company also maintains and supports a strong position in the hand tool industry, offering the highest quality hand tools in the world with PB Swiss Tools. These tools compliment any and all high-tech environments requiring optimum performance from both their equipment and technicians.

More from Materials