Selective Soldering Fixture measures process stability.
Press Release Summary: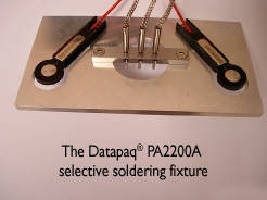 To help optimize manufacture of electronic assemblies, Model PA2200A uses 2 sensors to monitor performance of pre-heat stage of process and 3 sensors to monitor dip soldering stage. Dip soldering thermocouples enable monitoring of solder temperature, as well as dwell time in solder, and can be set at different heights to allow for measurement of contact time at various depths. System also generates detailed reports on selective soldering operation.
---
Original Press Release:

Datapaq® Introduces PA2200A Selective Soldering Fixture



Process monitoring solution helps to optimize the manufacture of electronic assemblies

SANTA CRUZ, Calif., - Datapaq®, the world's leading supplier of temperature profiling systems, has introduced the PA2200A Selective Soldering Fixture. This innovative solution simplifies selective soldering process monitoring, which helps to optimize the manufacture of electronic assemblies used in a wide range of automotive and aerospace products.

Selective soldering is employed in applications where a small number of conventional components need to be soldered to a very high standard on an electronic assembly containing mostly surface-mounted components. In many cases, however, it is difficult to obtain a temperature profile from a product assembly as it passes through the selective soldering process. The assembly moves in both the "X" and "Y" directions, so the data logger must be co-located with the assembly in an area where space may be very limited.

Thanks to the PA2200A, manufacturers can quickly and easily measure process stability during selective soldering. This includes monitoring both pre-heat and solder pot performance with a single fixture. They can also compare the performance of a number of selective soldering machines and easily replicate temperature profiles in separate manufacturing locations worldwide.

Datapaq designed the compact, robust, easy-to-use PA2200A fixture based on its existing Datapaq Wave and Surveyor technologies. The unit is small enough to be integrated into a carrier with a Datapaq Q18 logger and still pass through the process. Users can monitor reflow, wave, selective and even vapour phase soldering with the same Datapaq profiler, reducing training to a minimum and easing data sharing between departments.

With the Datapaq selective soldering process monitoring solution, two sensors are used to monitor the performance of the pre-heat stage of the process and three sensors are used for the dip soldering stage. The three dip soldering thermocouples enable monitoring of solder temperature, as well as dwell time in the solder (contact time). These probes can be set at different heights to allow for measurement of contact time at various depths. The system also generates detailed reports on the selective soldering operation.

For more information or to obtain a high-res product graphic, please e-mail the appropriate contact for your region indicated above.

About Datapaq

Founded in 1984, Datapaq, a Fluke company, has joined Ircon and Raytek as Global Experts in Temperature Measurement & Profiling. Datapaq manufactures in-process temperature profiling systems that provide key information on the effectiveness of industrial heating processes. Using the most advanced and tested techniques for accurately gathering and storing information, Datapaq has created industry specific standards to analyze, synthesize and report information in a precise and succinct manner. Recognized as an industry leader, our products serve automotive, finishing, solar manufacturing, can manufacturing, textile processing, ceramic manufacturing, PCB surface mounting, heat-treating, and food processing industries throughout the world. For more information, visit www.datapaq.com, www.ircon.com or www.raytek.com

More from Thermal & Heating Equipment