Selco Introduces New Thermistor Housing that Withstands Pressure Up Through 300 PSI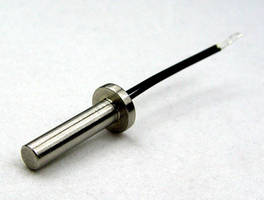 Reno, NV - Oct. 20, 2011 - In response to market demand, Selco Products has introduced a new High Pressure Stainless Steel Probe Housing option for their customizable CP Series Thermistors. The new housing enables the CP Thermistors to withstand pressures through 300 PSI in a variety of applications. This latest design demonstrates Selco's specialized capabilities to develop custom thermistor housings in varying shapes, lengths, materials and diameters at cost-effective price points.

The new housing features a stainless steel wall thickness that achieves a 300 PSI rating. Thermistor accuracies of ±0.1ºC to ±10% can be packaged in customized high pressure housings per the OEM's specifications.

Typically, thermistors are offered with a standard 100 PSI stainless steel housing rating. 300 PSI rated thermistors are not available as an off-the-shelf product and many manufacturers are not equipped to provide such a customized product at an affordable price.

"The development of this new thermistor option really characterizes Selco's ability to develop application-specific solutions for our customers, explains Mike Dobson, Selco Products Thermistor Product Manager. "It is not unusual for us to design a custom thermistor assembly that meets or exceeds customer expectations. Engineers need flexibility for their designs and our unlimited options help them achieve that."

Selco can customize the CP Series to meet exact application requirements for probe housing materials, lead wire gauges, insulation types, and connectors. Probes are available in a wide variety of R-T curve materials and are RoHS compliant. Excellent field stability is assured from years of experience in thermistor manufacturing coupled with stringent process controls. In addition to its custom thermistor product capabilities, Selco offers a full line of discrete thermistors including precision interchangeable, DO-35, thin film, point matched, epoxy coated, and SMT products

For more information on Selco's CP Series Thermistors with high pressure probe housings or other custom requirements, call Mike Dobson at 800-257-3526 or email: mdobson@selcoproducts.com or click here. For the complete Selco NTC Thermistor product line, click here

About Selco Products Company

Founded in 1958, Selco's wide range of temperature control products include thermostats, NTC thermistors, temperature probes, electronic temperature controls, control knobs, high-bright LED lighting, digital panel meters, and photocells . Contact Selco Products at 8780 Technology Way, Reno, NV 89521-5908, Tel: (775)674-5100, Toll-Free: (800) 257-3526; E-mail: sales@selcoproducts.com; Web site: www.selcoproducts.com.

More from Agricultural & Farming Products