See the Latest in Mineral Identification at PDAC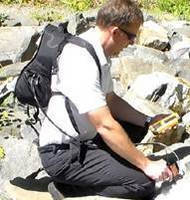 Stop by GEOSENSE Booth #942 - see the SPECTRAL EVOLUTION field portable spectrometer with EZ-ID software for real-time mineral identification.



Den - Ham – For more than 25 years GEOSENSE has provided expertise in remote sensing, mining exploration, and geological mapping, along with the latest field instruments. At PDAC we will be demonstrating SPECTRAL EVOLUTION'S field portable spectrometer with EZ-ID software for mineral identification.



GEOSENSE offers a wide range of services for regional exploration, project scale mapping, drillcore logging, and environmental impact analysis. Ask about our unmanned aircraft in addition to our geological remote sensing services. Through our URSUS Airborne partnership, we can offer both unmanned planes and helicopters for your geological remote sensing and mapping projects.



SPECTRAL EVOLUTION spectrometers deliver the capabilities necessary to quickly identify minerals of interest, save on drilling costs in the field, and save on assay costs in the core shack.



• Fast, full-spectrum UV/VIS/NIR measurements with just one scan

• Superior reliability for field use with 100% diode array optics and no moving parts to break down

• Field switchable optics for different target sizes and measurement modes

• Standalone operation – holds up to 1000 scans internally without a computer

• Bluetooth interface for wireless communication

• Lightweight, compact Li-ion rechargeable batteries

• Rugged, less than 8 lbs. and easy-to-carry

• Optional Getac PS336 PDA tags scans with GPS coordinates, photos, and voice notes, has a sunlight readable VGA screen, and stores an almost unlimited number of scans



All spectrometers are equipped with the exclusive DARWin SP Data Analysis software package so you can take advantage of the following analysis features:

• Automatically saves data as a compatible ASCII file for use with 3rd party programs, including TSG software – no extra export function is necessary, no hours of post-processing the day's scans

• Collect reference or target data with a single click

• Display reflectance/transmittance data (percentage) or absorbance (logarithmic) versus wavelength

• Single and multiple spectral plots available



Now with EZ-ID software, you can quickly identify minerals and take advantage of the following features:



• Fast and accurate identification of an unknown mineral to a known library sample

• Easy to use – just collect a target scan using the spectrometer and see immediate match results in real time

• Simple, consistent user interface

• Include or exclude spectral regions of interest for optimal results

• Fast scanning for optimum field work or core shack logging



For further information see:

http://www.geosense.nl

or: www.Ursus-airborne.com

or: www.spectralevolution.com



Stop by Booth #942 and see how we can work together for more affordable and accurate geological remote sensing.

More from Services