Secure Sleeve Growth Continues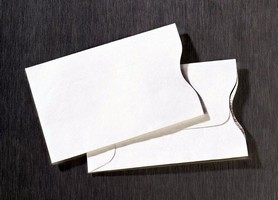 RFID shielding card sleeve close to 3 million strong

(Macedon, N.Y. July 31, 2008) - Information Packaging Corp. (IPC), a manufacturer of sleeve and envelope products continues to experience growth of their Secure Sleeve(TM), a RFID shielding card sleeve. Made from ArmorShield(TM), a Tyvek®-based material, the Secure Sleeve(TM) is designed to shield unauthorized access to information stored on a variety of contactless card applications. ArmorShield(TM) is durable and resistant to tears, punctures, moisture and chemicals and provides shielding for ISO 14443/15693 and EPC Gen 1/Gen 2 contactless smart card and any contactless card that operates at 13.56 MHz and above.

The Secure Sleeve(TM) is currently being used in conjunction with the new U.S. Passport Card which provides a travel identification document for land and sea border crossing between the U.S. and Canada, Mexico, Bermuda, and the Caribbean. It also is being used by states who are issuing an Enhanced Drivers License (EDL). The EDL serves the dual purpose of being a driver's license and also a travel document in place of the passport card.

New applications continue to arise where the Secure Sleeve(TM) is an ideal fit. It currently is gaining interest in the financial market for contactless credit cards and international transit cards to prevent invasive communications such as relaying, eavesdropping, and cloning from occurring.

"This product is an ideal fit for us," said Brenda Fitzsimons, marketing manager. "By blending new technology with our unique material and manufacturing capabilities we are able to provide durable RFID shielding sleeves for a variety of card applications. With close to 3 million sleeves produced and growing, the Secure Sleeve(TM) is fast becoming the protective sleeve of choice."

Information Packaging is a manufacturer of protective sleeves and envelopes for a variety of applications including credit cards, campus cards, CDs and DVDs. For more information, visit them at www.infopkg.com.

More from HVAC