Secure Easy Selection and More Uptime with New One-Type-Fits-All Valve Actuator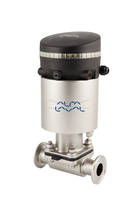 Things to consider when choosing an actuator:
1. How many types of actuators would I like in my plant?
Making sure that your time is spent as efficient as possible, we know that easy selection is crucial in hygienic industries.
To meet these demands, we present the new Alfa Laval Unique DV-ST UltraPure Actuator that fits the complete range of our standard diaphragm valves. It simplifies inventory management and makes the specification process quick, easy and secure. Regardless of the process or application, the same actuator can be stocked as a spare part for all Alfa Laval Unique DV-ST UltraPure diaphragm valves - whether cast, forged or block, and even used for autoclave duties.
2. How can I ensure reliable, trouble-free performance?
The Unique DV-ST UltraPure Actuator withstands high temperatures required for sterilization. It operates at working pressures up to 10 bar (6 bar TFM/EPDM).
Unlike many other actuators in the market, it is able to close the valve at the same working pressures at 0% pressure drop.
As long as the working pressure remains below 10 bar (6 bar TFM/EPDM), the actuator continues to deliver reliable, trouble-free performance. There is no need to change the actuator size or configuration – even if changes in the process line occur.
3. How can I have efficient valve control and minimize human error?
Alfa Laval sensing and control units can easily be integrated with the Unique DV-ST UltraPure Actuator, which enables customers to take advantage of Alfa Laval's superior valve automation solutions. Alfa Laval sensing and control units feature tight tolerance bands to provide maximum process safety and no-touch, set-and-forget sensors with simple set-up. This minimizes human error and promotes safe and efficient production, ensuring more uptime.
About Alfa Laval
Alfa Laval is a leading global provider of specialized products and engineering solutions based on its key technologies of heat transfer, separation and fluid handling.
The company's equipment, systems and services are dedicated to assisting customers in optimizing the performance of their processes. The solutions help them to heat, cool, separate and transport products in industries that produce food and beverages, chemicals and petrochemicals, pharmaceuticals, starch, sugar and ethanol.
Alfa Laval's products are also used in power plants, aboard ships, oil and gas exploration, in the mechanical engineering industry, in the mining industry and for wastewater treatment, as well as for comfort climate and refrigeration applications.
Alfa Laval's worldwide organization works closely with customers in nearly 100 countries to help them stay ahead in the global arena.
Alfa Laval is listed on Nasdaq OMX, and, in 2016, posted annual sales of about SEK 35.6 billion approx. 3.72 billion Euros. The company has about 17 300 employees.
Related