Secondary Tamper for Cotton Inserters prevents cotton from rising above the rim.
Press Release Summary: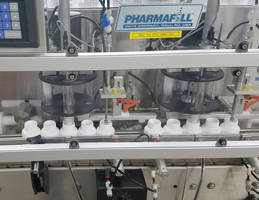 Pharmafill Line of cotton inserters has a secondary tamper that taps into cotton's property to rise toward the bottle opening. Bottles are securely capped as threads remain clear downstream, thereby reducing the number of rejected bottles.
---
Original Press Release:
Cotton Inserter Manufacturer Unveils Secondary Tamper to Promote Perfect Bottle Capping
Tamper Gives Cotton Extra Push Down Into Bottle, Keeps Threads Clear for Capper
Packaging machinery manufacturer Deitz Co., Wall, NJ (www.Deitzco.com), has unveiled a secondary tamper (optional) on its Pharmafill™ line of cotton inserters. Developed to manage cotton's natural inclination to rise towards the bottle opening after insertion, the secondary tamper automatically pushes the cotton deeper into the bottle to prevent the cotton from rising above the rim. By keeping the cotton secured inside the bottle, the secondary tamper helps ensure the bottle's threads remain clear downstream at the capping machine to promote proper bottle capping and minimize the number of rejected bottles. "With the Deitz machine and this secondary tamper, we get a good seal at the capper every time," says David Burrus, plant manager for nutritional product manufacturer Lifeplus, Batesville, Ark. "We used to have trouble with the lid seating but not anymore."
Developed for contract packagers and manufacturers of pharmaceuticals, nutraceuticals, and other solid dosage products, the secondary tamper is available on the company's Pharmafill CS1, CS2 and CS10 cottoners and may be retrofit on these machines currently in service. The CS1 cotton inserter offers fully automated operation on a compact footprint for easy upgrading from manual insertion while the second-generation CS2 cottoner delivers higher speeds, and the latest CS10 features dual filling heads working in tandem to achieve speeds of 180 containers per minute with 100% accuracy.
For more information, contact the sales staff, Deitz Co., Inc.; 1750 Route 34, PO Box 1108, Wall, NJ 07719 USA; 732.681.0200; Fax 732.681.8468; www.deitzco.com; sales@deitzco.com.
More from Software