SECO/WARWICK to Supply a Vacuum Furnace Specifically Designed for The MRO (Maintenance, Repair and Operations) Industry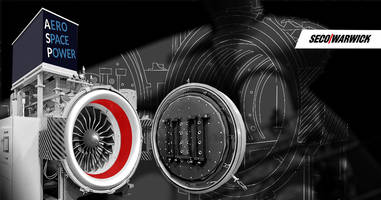 AEROSPACE POWER, a modern European MRO facility with experience in the renovation and energy industry has ordered a custom-made Vector® vacuum furnace from SECO/WARWICK.
The solution will be utilized for repair solutions for both complex aircraft engines and gas turbines for the energy industry. This is another example of an application where Vector supports the most demanding industries, this time in Hungary.
The unique Vector technology for gas turbines and aerospace parts.
The furnace on order is a unique solution due to the effective size of the heating chamber. It has been adapted to the Aero Space Power requirements and has a working area of 1300x1000x1500 mm. Thanks to this, the furnace can accommodate large components - mainly aircraft parts, as well as gas turbines for the energy sector.
"The furnace construction is based on the standard Vector vacuum furnace design, which can be adapted to individual needs. We create tailor-made furnaces, based on proven solutions, which gives the customer confidence that their system is backed by our many years of experience and hundreds of implemented solutions. This approach to each order, needs and solution is the SECO/WARWICK team trademark. Vectors are vacuum furnaces working in various industries. Their versatility combined with the personalization capability makes it the first-choice furnace in all corners of the world. I am glad that another partner from the MRO industry is associated with the SECO/WARWICK brand. It is worth emphasizing that this is an industry where it is crucial to ensure efficient execution of orders for parts necessary for maintenance departments. Production, strategic planning, and appropriate maintenance enables users to reduce costs, which is a priority here. Reliable Vector is a link which expedites this process," says Maciej Korecki, Vice President of the Vacuum Furnaces Segment at SECO/WARWICK.
The featured technology on order, in addition to non-standard dimensions, is designed to process work in the presence of two gases: argon (used for partial pressure) and nitrogen, which is used mainly in the cooling process.
Additionally, the furnace will be equipped with a dew point sensor for each of the gases. It is a system which solves one of heat treatment's very critical operational requirements, which is to control the quality/purity of gas used during the process. Vector also features a partial pressure control system based on three gases (Hydrogen, Argon, and Nitrogen) to help prevent evaporation and sublimation of alloying elements from the load surface during the vacuum heat treatment or vacuum brazing process.
The MRO industry is struggling with meeting delivery schedules
The MRO market is currently experiencing growth, mainly because access to new parts is becoming more and more difficult. Knowing the exact specifications for the MRO components and having reliable equipment for their production, users can optimize not only the supply chain planning process itself, but also the expenses incurred by the company for this purpose. This custom-made Vector will solve Aero Space Power's challenge, which was the heat treatment of large components - even with a diameter up to 1400 mm.
"We decided to acquire in-house heat treatment because we want to be independent in production. It will also give us much better control over the process and treated part quality. By purchasing a Vector furnace, we reduce the risk of delays in delivery, which is critical for our industry. The lack of parts causes very costly delays in the jet engine and turbine repair process. By installing production capacity in-house and creating our own heat treatment department, we not only become independent from external suppliers, but we also significantly reduce transportation costs. This is an important decision which will allow us to be more competitive in the MRO market," commented Mark Peter Biro, Commercial Sales Manager, Aero Space Power.
The MRO industry has been significantly affected by the global pandemic. Before 2020, new orders for basic parts were processed within 24 hours. Deliveries lasting no longer than 2 days was the standard. Currently, the situation does not look good, and deliveries are prolonged due to interrupted supply chains. The unstable situation in Europe and new sanctions packages mean that many MRO companies have to revise their existing development and optimization strategies. Ownership of vacuum furnaces allows companies to fully control the production process and can be an important key to success.
Contact:
Katarzyna Sawka
SECO/WARWICK GROUP 
MARKETING VP 
Email. Katarzyna.Sawka@secowarwick.com 
Tel: +48 512 811 648