Seco Tools to Solve Metalworking Challenges at AeroDef 2014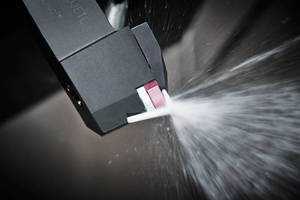 TROY, Mich. – At AeroDef 2014 in booth 119, Seco Tools LLC. will showcase one of the industry's most comprehensive selections of advanced cutting tools for productively and profitably machining precision aircraft parts from extremely tough materials. The selection will include several new milling, turning and holemaking solutions the company has developed in response to specific aerospace and defense manufacturing needs.  



New solutions include: the CS100 ceramic grade that allows for higher cutting speeds when rough machining nickel-based superalloys; double-sided high-feed wiper inserts with an M6 chipbreaker for roughing and semi-finishing steel alloys; TH1000 and TH1500 grades that offer extreme wear resistance when turning superalloys and hardened steels; Turbo helical cutters for aggressive metal removal in shouldering operations; Jetstream Tooling® Duo technology that uses two highly precise coolant jets to cool the rake and clearance faces of the cutting tool in turning operations; and Feedmax PCD drills that bring flexibility and performance to composite machining.    



Other aerospace and defense-related products Seco will have on display during the show include: High Feed 2 milling tools that provide high feed rates and small depths of cut in superalloys; Jabro™ JHP770 and JHP780 solid carbide end mills that offer high metal removal rates with chatter-free machining in roughing applications; the Jabro JC850 four-flute ball nose cutter for machining carbon fiber reinforced polymers; Jetstream Tooling that directs coolant directly to the insert when turning materials that are poor conductors of heat; the Secomax™ CBN170 grade for finish turning nickel-based superalloys; the CBN010 grade for turning hardened steels; and ME geometries that allows Seco's Double Octomill™ face milling cutter to cut freer in tough materials such as titanium, superalloys and Inconel.



Seco applications experts will also be available at AeroDef to speak with manufacturers and share strategies for controlling chip flow and maximizing turning productivity, maintaining tight tolerances using complex machining strategies, increasing process security and hole quality, implementing complex machining strategies for high material removal rates and much more.   



About Seco Tools

Seco Tools is a leading provider of metalcutting solutions for milling, turning, holemaking and toolholding. The company prides itself on building close relationships with customers to effectively understand and address their needs. For more information on products and services from Seco Tools, please contact Lisa Seidl, Seco Tools, 2805 Bellingham Drive, Troy, Michigan 48083, Tel: 248-528-5444, Email: lseidl@secotools.com, visit www.secotools.com/us or follow us on Twitter at @SecoToolsUS.





Related