Seco Tools Introduces PCBN Inserts in New Grade Format and Geometries
Press Release Summary: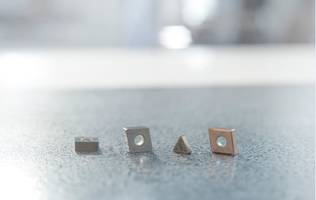 The Polycrystalline Cubic Boron Nitride Inserts come in new long WL and short WS wiper radii and laser-etched chip breakers. The WL wiper inserts enable 100 percent feed-rate increase whereas the WS wiper insert's cutting forces are reduced by 15 percent for enhanced machining in low-stability conditions. The CBN150 solid insert grade inserts deliver high-surface quality during light interrupted and continuous cuts in hard turning applications.
---
Original Press Release:
Overcome the Challenges of Hard Turning With New Seco PCBN Inserts
TROY, Mich., December 10, 2018 – To eliminate the difficulties of hard turning operations, Seco Tools has added a new grade format and several new geometries to its already expansive line of PCBN (polycrystalline cubic boron nitride) inserts. These additions broaden the extremely tough Seco CH3515 insert grade and introduce a new solid CBN150 insert grade, special long and short wiper geometries and laser-etched chipbreakers.
The Seco CH3515 insert grade offers high reliability in harsh cutting conditions with heavy interrupted cuts, while the CBN150 solid insert grade yields high surface-finish quality during light interrupted and continuous cuts in hard turning. The complete standard line now includes a broader range of sizes and geometries to optimize all hard-turning operations, and cost per edge drops with an increased number of cutting edges per insert.
Enhanced hard turning feed rates and/or surface finish quality result from new long WL and short WS wiper radii. The WL wiper inserts enable feed-rate increases of up to 100 percent while maintaining surface finish quality. With the WS wiper, cutting forces drop by as much as 15 percent for improved machining in low-stability conditions.
With new laser-etched chipbreakers, the inserts are extremely well suited for applications that transition from hard to soft part surfaces while allowing for increased depths of cut and feed rates over previous insert designs. The laser-generated flowingradii chipbreakers exceed the performance of ground chipbreakers in generating smooth insert walls and reducing sharp corners. These improvements produce smoother chip flow and help prevent chipping while increasing chipbreaker application range.
About Seco Tools, LLC Headquartered in Fagersta, Sweden and present in more than 75 countries, Seco Tools is a leading global provider of metal cutting solutions for milling, stationary tools, holemaking and tooling systems. For more than 80 years, the company has provided the technologies, processes and support that manufacturers depend on for maximum productivity and profitability. For more information on how Seco's innovative products and expert services bring success to manufacturers across all industry segments in North America, please contact Seco Tools, LLC, 2805 Bellingham Drive, Troy, Michigan, Tel: 248.528.5451, or visit www.secotools.com.
MEDIA CONTACTS:
dgs Marketing Engineers®
Chuck Bates | 317.813.2230
or Seco Tools, LLC
Bob Heery | 248.528.5451
More from Mounting & Attaching Products