Seco Offers New Milling Tools to Optimize Manufacturing Processes
Press Release Summary: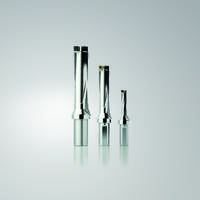 Seco New Tools include Double QuattroMill™ 22 face milling tools, Perfomax™ indexable insert drills, Feedmax -P drill and MZN and MBZ high feed milling cutters. Perfomax insert drills are offered in diameters ranging from 15 mm to 59 mm with length-to-length ratio of 2xD, 3xD, 4xD and 5xD. The drills feature a hardness of HRC 60. Solid Carbide Feedmax-P drills come with advanced TiAlN coating and deliver cutting speeds of 623 ft/min. Double QuattroMill 22 are designed for roughing and semi-finishing applications.
---
Original Press Release:
Seco Showcases Tooling Innovations and Turnkey Services at IMTS 2018
TROY, Mich., May 16, 2018 – For the 2018 International Manufacturing Technology Show (IMTS), Seco will spotlight the company's innovative new tools and growing range of services at booth #431564 in the West Hall. Additionally, Seco will offer visitors the opportunity to interact with its products and technology via an immersive augmented reality (AR) experience.

Among Seco's exciting new tooling solutions at the show are the Double QuattroMill™ 22, a double-sided version of the company's aggressive line of face milling tools, and the company's newly redesigned Perfomax™ indexable insert drills. Seco's solid tooling display at the show will also include the Feedmax -P drill configuration that incorporates a new coating and geometry specifically for holemaking in steel and cast iron, as well as Niagara Cutter products such as advanced high feed milling tools with grades and geometries designed for the highest possible efficiency even in the toughest materials.
As a one-stop shop for optimizing manufacturing processes, Seco will unveil its new consultancy service, which will complement the company's existing well-known services like STEP training and SecoPoint inventory management. The consultancy will utilize an extensive evaluation process that examines every aspect of a company's operations to identify all of the factors impacting its bottom line. Visitors will be among the first to learn more about this new service and how it will give manufacturers the opportunity for truly comprehensive process optimization. 
Double QuattroMill 22
Seco's new Double QuattroMill 22 face mill for roughing and semi-finishing delivers the next level of performance with its free cutting geometry. Its innovative insert placement reduces cutting forces, leading to workpiece stability, improved tool life and maximum productivity. The Double QuattroMill 22 is ideally suited for applications in a wider range of part materials than ever before, including steel and cast iron as well as 15-5 stainless steel and super alloy materials such as titanium and Inconel®. 
Feedmax -P
The new Seco Feedmax -P drill gives manufacturers the potential to significantly boost holemaking performance beyond that of current drilling technology for ISO P (steel) and cast iron workpiece materials. The solid carbide Feedmax -P drills can increase drilling productivity by up to 35 percent while also providing longer tool life due to the combination of the drill's new geometry and advanced TiAlN coating. Together with the drill's strong point geometry, cutting speeds of 623 feet/min are possible in 4140 alloy steel without sacrificing tool life. 
Seco offers the Feedmax -P in diameters ranging from .078" to .787" (2 mm to 20 mm) and in length-to-diameter ratios of 3xD, 5xD and 7xD. All drills come standard with through-the-tool coolant channels to ensure maximum performance. Custom versions such as intermediate sizes and chamfer and step drills are available upon request.
Perfomax
A drill body that will stand the test of time, the newly redesigned Seco Perfomax indexable insert drill offers exceptional productivity and longer tool life. Featuring higher drilling parameters as well as exceptional chip control and evacuation, the drill's flutes have improved helix angles along with smoother chip flute exits and Seco's engineered wave pattern, which minimizes contact between chips and flute surfaces. Furthermore, for up to 140 percent longer drill body tool life, Seco laser hardens the fronts of Perfomax's flutes. A hardness of HRC 60 allows the drill to withstand chip erosion for much longer periods of time. 
Perfomax drill bodies are available in diameters ranging 0.594" to 2.375" (15 mm to 59 mm); in length-to-diameter ratios of 2xD, 3xD, 4xD and 5xD; and in most spindle interfaces. 
MZN and MBZ High Feed Milling Cutters
Niagara Cutter high feed MZN410R and MZN510R AlTiN-coated solid carbide end mills bring high wear resistance and superior performance to applications that involve machining mold and die components from hardened steel, cast iron or nickel based super alloy workpiece materials. Niagara Cutter's line of high feed milling tools also includes the MBZ tools, ball end mills designed for the rough and finish milling of contours and complex shapes for mold and die steels.
Overall, when used in high feed milling operations, these cutters reduce machining time and costs by allowing use of one tool for a wide range of operations, maximizing material removal rates and allowing close-to-profile pocketing of 90-degree walls. The technique also minimizes semi-finishing operations to further increase machining efficiency.
About Seco Tools, LLC
Headquartered in Fagersta, Sweden and present in more than 75 countries, Seco Tools is a leading global provider of metal cutting solutions for milling, stationary tools, holemaking and tooling systems. For more than 80 years, the company has provided the technologies, processes and support that manufacturers depend on for maximum productivity and profitability. For more information on how Seco's innovative products and expert services bring success to manufacturers across all industry segments, please visit www.secotools.com.
MEDIA CONTACTS:
dgs Marketing Engineers®
Chuck Bates
317.813.2230
or
Seco Tools, LLC
Bob Heery
248.528.5451