Seco Canada Covers All Cutting Tool Bases at MMTS 2014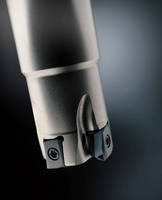 New Seco and Niagara milling, turning and holemaking products on display in booth 427



TROY, Mich. – At MMTS 2014, May 12 – 14 at Place Bonaventure Montreal, Quebec, Seco Tools Canada will meet the increased productivity and tight tolerance demands of manufacturers across all industry segments by showcasing a broad selection of new milling, turning and holemaking solutions from its Seco and Niagara brands in booth 427.



Seco product highlights include the new Square T4-08 square shoulder mill with a unique tangential cutter design, new MS2050 milling grade with a special PVD coating well as the addition of smaller shanks to its X4 grooving and parting-off system. Products from Niagara include new S738 and S938 high-speed, multi-flute solid carbide cutters, the Stabilizer™ HT STR440 solid carbide tool with aerospace corner radius, VFB435SB and VFP635SB high-speed cobalt cutters and DiamondPlus™ Series of CVD diamond-coated solutions.



Seco Products

Made for roughing and semi-finishing operations in cast iron and steel, the Seco Square T4-08 square shoulder mill features tangentially mounted inserts, each having four cutting edges, to bring smooth cutting action, good surface finish and minimal chatter to slotting and contouring applications. The tangential mounting of the tool's inserts increases the surface area of contact between the inserts and cutter body, resulting in increased rigidity and machining stability. Additionally, this special mounting design directs the cutting forces to the thickest part of the inserts, providing highly robust milling performance and increased metal removal rates with small diameters.   



Optimized for challenging machining conditions, the Seco MS2050 milling insert grade utilizes a new coating technique and substrate that brings enhanced process reliability and higher cutting data to part processing applications involving titanium alloy materials. The special PVD coating on the MS2050 not only strengthens the insert's wear resistance but also eliminates reaction with the workpiece material for increased  cutting speeds and tool life and a decreased cost per part.



Seco is expanding its short-reach grooving and parting-off X4 system for small- and medium-sized complex parts by introducing smaller shanks into the product family. The new 1212 (12 mm high x 12 mm wide) and 1616 (16 mm high x 16 mm wide) shafts with a compact tool holder head design bring the reliability and value of the X4 system to small sliding head machines, where there is a need for small holders with narrow cutting-edge widths.



Other Seco products at MMTS will include: the CS100 sialon-type ceramic grade for ISO turning inserts, M6 negative-styled chipbreaker turning insert for roughing and semi-finishing in steel and cast iron, highly wear resistant TH1000 and TH1500 turning grades for superalloys and hardened steels; Turbo helical cutters for aggressive metal removal in shouldering operations, Jetstream Tooling® Duo direct high-pressure coolant delivery system for turning operations, and Seco Feedmax™ PCD drills that bring flexibility and performance to composite machining.    



Niagara Products

Niagara's new seven-flute S738 and nine-flute S938 solid carbide cutters with 38-degree helixes productively perform high-speed milling operations in challenging materials. The unequal flute spacing of these AlTiN-coated cutters helps reduce vibration and improve surface finish. Available in a broad range of diameters, these multi-flute cutters are available as standard or with aerospace corner radii.  



The new four-flute STR440 solid carbide milling cutter, which is part of the Niagara Stabilizer™ HT family, features an aerospace corner radii and patented variable flute geometry. Available in AlCrN or AlTiN coatings, the STR440 effectively machines a wide variety of materials, including stainless steel, nickel-based alloys and titanium.



Made from an M42 cobalt substrate, Niagara's new four-flute VFP435SB and six-flute VFP635SB variable face milling cutters bring substantial metal removal rates to stainless steel and titanium roughing operations. Available in a variety of diameters, multiple lengths of cut and with an optional 45-degree corner chamfer, these cutters feature a special geometry that provides optimal chip formation and evacuation in difficult operations.



Designed for precision machining in advanced abrasive materials, Niagara's expanded line of DiamondPlus products feature a 100 percent real diamond crystal coating that makes them extremely hard and maximized for long tool life. The diamond coating is resistant to chemical interaction with the workpiece material and has an extremely low coefficient of friction to significantly reduce edge build-up.    



About Niagara Cutter

Headquartered in Amherst, N.Y., Niagara Cutter has been a trusted provider of high-quality, high-value standard and custom cutting tools to the metalworking industry since 1954. The company's portfolio of productivity-enhancing solutions encompasses solid carbide, diamond-coated, high-speed steel and cobalt end mills as well as solid carbide thread mills. Niagara Cutter is a wholly owned subsidiary of Seco Tools, LLC. For more information on Niagara products and services, please visit NiagaraCutter.com or call 800.861.6111.



About Seco Tools, LLC

Seco Tools, LLC is a leading provider of metalcutting solutions for milling, turning, holemaking and toolholding. The company prides itself on building close relationships with customers to effectively understand and address their needs. For more information on the company's products and services, please contact Lisa Seidl, Seco Tools, LLC, 2805 Bellingham Drive, Troy, Michigan 48083, Tel: 248-528-5444, Email: lseidl@secotools.com, visit www.secotools.com/us or follow the company on Twitter at @SecoToolsUS.



Seco Square T4-08

The new Seco Square T4-08 square shoulder mill with unique tangential cutter design will be on display in booth 427 at MMTS.



Niagara Stabilizer STR440

The new Niagara Stabilizer™ HT STR440 solid carbide tool with aerospace corner radius will be on display in booth 427 at MMTS.



More from Software