Seco Brings Comprehensive Cutting Tool Innovations to TECMA 2015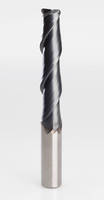 TROY, Mich. — At TECMA 2015, Seco Tools, LLC will showcase numerous cutting tool innovations that bring enhanced productivity and value to a variety of metalworking operations. Visitors to Seco stand 848 at the Expo Bancomer Santa Fé in Mexico City, March 3-6 will discover several new milling cutters, as well as the latest turning and threading solutions. 



Square Shoulder Milling

At the show, Seco will highlight several of its multi-edge cutters, which offer a lower cost per cutting edge. Featured in the stand will be the Square T4-08, Square™ 6 and R220.LN14 lines of square shoulder mills.



Made for roughing and semi-finishing operations, Square T4-08 cutters feature four cutting edges and an innovative tangential cutter design that brings good surface finish to slotting, contouring and plunging applications. These cutters are available in the M08 and MD08 insert geometries as well as eight different grades. Various mounting types include Cylindrical, Weldon, Arbor and Combimaster™, and cutting diameters range from 15.875 mm (0.625") to 63.5 mm (2.5"), with a maximum cutting depth of 7.97 mm (0.314"). Corner radii ranges from .406 mm (0.016") to 1.6 mm (0.063").  



Square 6 cutters employ trigonal inserts with six indexable cutting edges, providing high productivity and lowering cost per edge. These cutters are available in two different insert sizes – Square 6-08 and Square 6-04 – to handle a broad range of cutting diameters and depths. Furthermore, all Square 6 inserts can be set to a true 90-degree cutting angle to create clean 90-degree walls and eliminate secondary operations. Inserts lock into place via a strong center screw placed in the same direction as cutting forces, and wiper flats optimize surface finishes.



Seco designed its new R220.LN14 line of square shoulder mills to bring increased value and performance to demanding applications that require large depths of cut. R220.LN14 provide four cutting edges with a 14 mm (0.551") cutting edge length to reduce cost per edge. Negative rake, 7 mm (0.28") thick inserts provide the robustness needed for heavy cuts up to 14 mm (0.551") in difficult materials, long-reach applications and less stable setups. The tools are well suited for medium- to heavy-duty applications requiring a 90-degree wall, and inserts are available in six grades to handle a variety of materials.



Face Milling

Seco will also showcase its new Double Octomill™ High Feed face mill with 16 cutting edges. Designed to increase metal removal rates in steel and cast iron applications, this face mill brings versatility, productivity and economy to both roughing and finishing operations, and is available in diameters from 80 mm (3.1496") to 60 mm (2.3622").



Seco offers three insert geometries, four grades, and three different pitch versions – normal, normal+ and close – for use with the Double Octomill High Feed so it can successfully be applied across a wide range of materials. Grind location grooves on these inserts ensure they precisely align between the edge and seat of each cutter body pocket, which allows the cutter to achieve very tight tolerances.



General End Milling

Also in Seco's TECMA stand, Niagara Cutter will spotlight its new NS240R solid carbide long-flute end mill for general machining in aluminum, stainless steel and titanium – and especially those applications requiring fine surface finishing. The NS240R end mill reduces machining cycle times in square shoulder milling operations through its one-pass finishing capabilities, and produces tight-tolerance straight walls when cutting deep pockets. As standard, the NS240R provides 5xD depths of cut and come in diameters ranging from 6.35 mm (1/4") to 31.75 mm (1 1/4") and with various radii, including those specifically for aerospace applications.



Turning

Following the success of its Steadyline™ milling holders, Seco has added turning bars to this patented line of damped tooling that brings excellent productivity results to a wide variety of long overhang machining operations. Featuring the company's new, patented GL connection, the same Steadyline turning bar performs both rotating and static operations to increase versatility while helping to reduce overall tool costs.



Available in 6xD, 8xD and 10xD, a range of types, including Seco-Capto™ C4, C5 and C6, and a broad selection of turning heads for CN, DN, WN, CC, DC, TC, TN and RN inserts as well as heads for Snap-Tap® threading, Steadyline turning bars can handle a variety of applications and operations, including roughing, finishing, threading and grooving. In addition, these bars feature coolant supply channels for enhanced chip evacuation.



Threading

At TECMA 2015, Seco will display its new Thread Chaser inserts that incorporate multi-tooth patterns to allow push and pull threading of O.D. and I.D. features with one or two passes. The precise thread patterns quickly and reliably generate highly accurate and consistently perfect thread pitches. Through-coolant holes and chip formers direct high-pressure coolant precisely to the cutting edge to optimize chip formation, provide efficient chip evacuation and extend tool life. These inserts provide substantial value to manufacturers working with pipes and couplings made from a wide range of material hardnesses for the oil and gas industry.



About Seco Tools, LLC

Seco Tools, LLC is a leading provider of metalcutting solutions for milling, turning, holemaking and toolholding. The company prides itself on building close relationships with customers to effectively understand and address their needs. For more information on the company's products and services, please contact Lisa Seidl, Seco Tools, LLC, 2805 Bellingham Drive, Troy, Michigan 48083, Tel: 248-528-5444, Email: lseidl@secotools.com, visit www.secotools.com/us or follow the company on Twitter at @SecoToolsUS.

More from Electronic Components & Devices