Seat Trim Cover Fastener measures 12.5 mm wide.
Press Release Summary: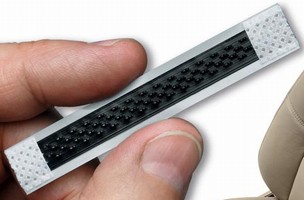 Featuring zero hold-down deformation over time, M3G mold-in touch fastener enables accurate placement of automotive seat trim covers with life-of-vehicle holding power. Product facilitates part placement in mold and offers minimal foam air entrainment. Mated with VELCRO® brand loop, fastener delivers holding force of 31 N per 25 mm of fastener length. Flexible edge works with seat foam to bond firmly, and 4 linear rows of 4 mm wide molded-in hooks offer complete loop engagement.
---
Original Press Release:
Velcro Automotive Division Introduces Seat Trim Cover Fastener
TROY, MICHIGAN… JUNE 30, 2006... A new mold-in touch fastener that provides smooth, accurate placement of automotive seat trim covers has been introduced by Velcro USA Inc., Automotive Division. Designated M3G (Mold-in 3rd Generation), the touch fastener provides life-of-vehicle holding power, fast assembly time, reduced labor, scrap and rework costs, and smooth, attractive seat cover appearance.

When compared with conventional, more labor-intensive wire ring-and-rib or wire seat cover tie-down assembly, the M3G fastener offers vehicle manufacturers and Tier I suppliers time and cost savings while increasing productivity. The new-generation fastener also offers faster, easier part placement in the mold and less foam air entrainment (voiding) than conventional strip fasteners. The narrow foam trench facilitates increased trim cover placement "first time" accuracy to speed assembly productivity.

Among the M3G fastener's other advantages are:

• cleaner, more defined trim cover seams and smoother bolsters;
• zero hold-down deformation over time;
• reduced cover waviness;
• more user-friendly assembly ergonomics;
• end-of-use recyclability;
• more design flexibility; and
• faster seat cover repair and replacement with repeatable holding force.

When mated with VELCRO® brand loop, the M3G fastener delivers a holding force of approximately 31N per 25mm of fastener length. M3G has a flexible edge which "works" with the seat foam to bond firmly even under aggressive dynamic loading during vehicle use.

An integral steel wire backing both reinforces the fastener and helps ensure accurate magnetic mold placement. The fastener's narrow, 12.5mm width has four linear rows of new, high-strength molded-in hook for complete loop engagement, firmly securing the seat trim covers. Actual hook width is only 4mm wide, providing crisp, straight trim seam lines.

A detailed brochure is available; call (248) 583-6060 or visit www.velcro.com.

VELCRO USA Inc., Automotive Division, is the leading global automotive supplier of hook and loop and specialty fasteners, with design, manufacturing and sales operations in the Americas, Europe and the Far East. The Automotive Division is headquartered in Troy, Michigan. Velcro USA Inc and Velcro Canada Inc. are TS 169949-registered, and Velcro Europe S.A. is ISO 9001-registered.

VELCRO and VELCRO with FLYING V (design) are registered trademarks of Velcro Industries B.V. www.velcro.com
More from Fasteners & Hardware