Searchlight is suited for heavy weapons.
Press Release Summary: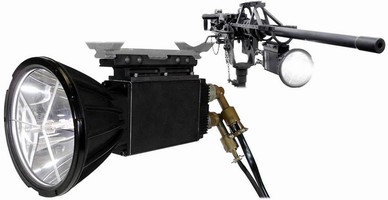 Maxa Beam Crew-Served Weapons Light (CSWL) Illumination System features field replaceable front lens and lamp assembly, as well as built-in interface that mounts unit to any M1913 Picatinny rail. With remote-controlled beam width feature, users can alter beam width between 1° spot and 40° flood, while non-lethal strobe function helps disable/disorient target in situations where lethal force is not warranted. Weighing 3.85 lb, unit offers 3,000 m visible/white light and 1,200 m IR illumination.
---
Original Press Release:

Peak Beam Systems, Inc. Introduces High-Intensity Crew-Served Weapons Light (CSWL) System



June 6, 2008

Peak Beam Systems, Inc., manufacturer of high-intensity Maxa Beam searchlights, has introduced a Crew-Served Weapons Light (CSWL) Illumination System for heavy weapons. The weapon-mounted searchlight features a rugged, field-replaceable front lens and lamp assembly and a built-in interface that mounts the light to any M1913 "Picatinny" rail.

The Maxa Beam CSWL offers several unique capabilities including a Remote-Controlled Beam Width feature in which the operator can alter the beam width between a 1 degree spot and a 40 degree flood and a Non-Lethal Strobe function that effectively disables and disorients a target in situations where lethal force is not warranted. All of the Maxa Beam CSWL features are controlled with an easy-to-use tape switch mounted at the rear of the weapon. The Maxa Beam CSWL weighs just 3.85 pounds and offers an unparalleled 3000m visible/white light and 1200m infrared light range of illumination. The Maxa Beam CSWL system is rated at IP66, features Mil. Spec. metal connectors and has been tested extensively by the U.S. Special Forces at NSWC Crane and Fort Bragg.

About Peak Beam Systems, Inc.

Peak Beam Systems, Inc. is a leader in the design and manufacture of handheld, high-intensity illumination products. Peak Beam is a Certified Small Woman-Owned Business based in Edgemont, PA. Peak Beam's flagship product, the Maxa Beam Searchlight, has been field-tested for twenty years and users include the U.S. Army, Navy, Marines, Coast Guard, Border Patrol, Department of Homeland Security, federal and local law enforcement, and friendly foreign governments. For more information, please visit www.peakbeam.com or contact Will Harcourt, Director of Sales, at 610-353-8505.

Company Name: Peak Beam Systems, Inc.

Phone: 610-353-8505

URL: www.peakbeam.com

Contact Name: Will Harcourt

Title: Director of Marketing

E-mail: sales@peakbeam.com

Related