Seamless Integration from Field Devices to Central Monitoring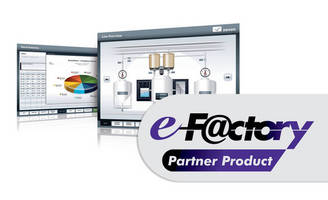 Princeton, New Jersey -COPA-DATA and the Factory Automation Group of Mitsubishi Electric Europe strengthen their cooperation:

Seamless integration from field devices to central monitoring

Mitsubishi Electric's Factory Automation European Business Group and COPA-DATA announce their cooperation in the framework of the e-F@ctory Alliance Partner Program. The main focus of the cooperation is the seamless integration of COPA-DATA`s control and visualization software products into Mitsubishi Electric's embedded C Controller.
Remote measurement and reporting from field devices is becoming increasingly important in industrial energy and infrastructure projects. However, often, in various types of applications, different protocols are used which complicate a seamless data flow. By supporting these protocols in existing control systems, engineering time and effort can be significantly reduced, whilst guaranteeing proven, secure communication technology. Mitsubishi Electric Europe has teamed up with COPA-DATA in a new partnership to address these aspects and offer their customers additional value through the integration of their respective technologies. The seamless integration of Mitsubishi Electric`s automation hardware and COPA-DATA`s monitoring, control and visualization software products gives users access to important telemetry protocols and thereby achieving remote data collection and processing.

Decentralized telemetry protocols for easy remote data measurement
In order to easily collect data and status reports from remote field devices, Mitsubishi Electric`s MELSEC Q-Series operates with COPA-DATA`s telemetry protocols. Through the porting of straton, the IEC 61131-3 Soft-PLC of COPA-DATA`s subsidiary COPALP, to the C Controller CPU of Mitsubishi Electric`s iQ Platform, users gain access to a wide range of drivers and communication protocols. In particular, the use of the IEC 61850 and IEC 61400-25 standards brings significant advantages for remote station automation and projects in the renewable energy fields.

From sensor to ERP
straton is fully integrated as a module in COPA-DATA`s control and visualization software zenon, thus enabling efficient configuration. straton and zenon access the same database, providing a completely integrated solution with the advantage of unrestricted data exchange between PLC programming using straton and the SCADA system zenon. zenon can communicate directly with Mitsubishi`s iQ Platform because of the open structure and the object-orientation for HMI and SCADA. Supplemented with further interfaces to third parties, such as the more than 300 native drivers and communication protocols in zenon, customers benefit from individual and flexible overall solutions from field level to ERP.


Related