Hydraulic / Pneumatic / Radial Shaft Seals
Seals resist mineral oils and high temperatures.
Press Release Summary: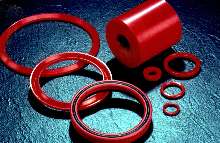 Duralast 4203 hydrolysis-resistant, hardwearing polyurethane overcomes conflicting requirements faced from fluids such as synthetic Ester, vegetable oil, or mineral-based fluids and fire-resistant and biodegradable fluids. Product exhibits stability in water up to 195°F, very low gas permeability, and ozone-, weather-, and temperature-resistance. It is offered in machined seal types, including Compact Piston seals, O-Rings, and machined valve seats.
---
Original Press Release:
Duralast 4203 High Performance Seals Resist Mineral Oils, Water Pressure and High Temp

A new line of seals is claimed to overcome the conflicting requirements sealing materials face from such diverse fluids as synthetic Ester, vegetable oil or mineral-based fluids and fire-resistant and biodegradable fluids; the answer to the very arduous sealing conditions found in such tough environments as mining, steel mills, offshore drilling, tunneling jobs, railroad, mobile construction and marine requirements.

American High Performance Seals, Inc. of Pittsburgh, PA is introducing high-performance Duralast 4203 in a wide range of machined seal types, such as: U-Cups, Compact Piston seals, Vee-Packing, T-seals, lip seals, wipers, composite seals, face seals, cap seals, 'O'-Rings, Octi-Rings, contoured back-ups, swivel seals and machined valve seats etc.

The new seal line, machined Duralast 4203, was in response to problems with urethane seal compounds developed for use in water-based fluids were not as stable in mineral oil. A growing need existed for a hydrolysis-resistant, and hardwearing polyurethane. High-pressure, high-speed pumps, cylinders and accumulator systems are now being converted to biodegradable hydraulic fluids. American High Performance Seals monitored the material use under arduous conditions and proved the service flexibility and hardiness coupled with stability in water up to 195°F. Other interesting properties include a very low gas permeability, making it ideal for use in high pressure gases for equipment like Piston Accumulators, a extremely low compression set making it ideal for high pressure / high loading applications like Longwall mining shields, and high ozone/weather/temperature resistance making it quite suitable for use on mobile equipment.

Contact for technical information:

Derek Duncan

American High Performance Seals Inc.

408 High Tech Drive

Pittsburgh International Industrial Park

Oakdale, PA 15071

Tel (800) 283-7140

Fax (412) 788-8816

Website: ahpseals.com

E-mail: ahpseals@ahpseals.com
More from Fluid & Gas Flow Equipment