Hydraulic / Pneumatic / Radial Shaft Seals
Seals protect deep groove ball bearings.
Press Release Summary: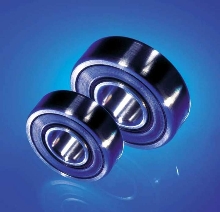 Types RSL and RSH nitrile rubber seals protect against contaminants, such as mineral oil-based lubricants, fuels, oils and greases, dust, and water. Optimized sealing is provided by combination of seal lip and additional labyrinth formed by gap between tapered rubber part and inner ring shoulder. Use of sheet steel reinforces rubber material, keeping seal stiff. Seals are available for bearings with bore diameters from 6-25 mm and with max OD of 52 mm.
---
Original Press Release:

New SKF® Seals for Deep Groove Ball Bearings Designed to Promote Longer Service Life


Two new SKF® types of seals for deep groove ball bearings feature advanced designs to protect against a wide range of contaminants, including mineral oil-based lubricants, fuels, oils and greases, dust, and water. The nitrile rubber, low-friction seals promote lower energy consumption, offer superior grease retention, and contribute to longer bearing service life in countless industry applications where robust and reliable seals are required.

Types RSL and RSH seals provide greater sealing efficiencies due to a combination of seal lip and additional labyrinth formed by a gap between the tapered rubber part and the inner ring shoulder. Use of uniquely shaped sheet steel reinforces the rubber material, which keeps the seal stiff within the lean design. High-precision manufacture of seal counterfaces and specially engineered recesses in inner ring shoulders help to reduce seal lip wear.

The design of patented rubbing RSH seals is especially suited for applications where bearings may be exposed to high-pressure water cleaning operations. In these cases, the contact pressure between a secondary seal lip and the seal counterface is applied to the outside of the bearing, while the overlap of the seal and the inner ring shoulder prevent the seal from being pressed into the bearing and leaking.

RSL and RSH seals are available for deep groove ball bearings with bore diameters ranging from 6mm to 25mm and with maximum outside diameters of 52mm. Bearings can be sealed either on one or both sides of the bearings.

Contact James M. Brown at SKF, 1530 Valley Center Parkway, Bethlehem, PA 18017-2266. Phone: 800-541-3624 (toll-free) or 610-861-3712. Fax: 610-861-3737. Web site: www.skfusa.com
(SKF® is a registered trademark of SKF USA Inc.)

More from Sensors, Monitors & Transducers