Seals perform in temperatures up to 300° F.
Press Release Summary: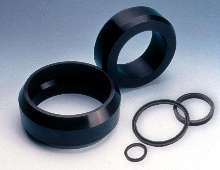 XHNBR carboxylated nitrile seals exhibit high tensile strength, high heat resistance, and resistance to hydrogen sulfide, corrosion inhibitors, steam, oil, and other chemicals. They are also highly resistant to wear, abrasion, and extrusion. XHNBR Seals are suited for downhole oilfield, reciprocating and rotary drilling system uses, and other energy, oil and gas operations.
---
Original Press Release:
New Carboxylated HNBR Seals Combine High Strength with High Temperature Resistance

IRVINE, CA - Parker Hannifin's Seal Group now offers sealing products in carboxylated HNBR (XHNBR), a material that combines the temperature resistance of highly saturated nitrile (XNBR)
with the durability of carboxylated nitrile (HNBR).

Seals made with Parker's XHNBR elastomer material exhibit very high tensile strength, high heat resistance, and exceptional resistance to hydrogen sulfide, corrosion inhibitors, steam, oil, and other chemicals. They perform in temperatures up to 300°F (149°C), and are also highly resistant to wear, abrasion and extrusion.

Parker's XHNBR seals are suited for downhole oilfield, reciprocating and rotary drilling system uses and other energy, oil and gas operations. Typical EOG applications include molded, low pressure seals for shock tools and drilling jars; high-pressure blow-out preventer (BOP) seals; and subsea applications, including risers, casing hangers and mud pumps.

Parker manufactures seals and seal assemblies in compliance with international standards, including AS 568A, ISO 3601, DIN 3771, and JIS. Parker's engineered polymer seals are manufactured in 14 locations on four continents. Facilities are certified to AS 9000, ISO 9001, and 0S 9000 quality standards. Technical support is available from more than 200 Parker distributor and service center locations in nine countries.

For complete technical specifications on Parker's XHNBR sealing material, ask for a free copy of "N4021A90 Carboxylated HNBR (XHNBR)" bulletin (EPS 5214) by calling 1-800-C-PARKER. Or, download it from Parker's online literature gallery at http://www.parker.com/eps.

Please send inquiries to:

Mark D. Halloran

Marketing Communications Manager

Parker Hannifin Seal Group

14300 Alton Parkway

Irvine, CA 92618

Tel: (949) 851-3756

Fax: (949) 851-3798

mhalloran@parker.com

Technical Questions:

Ken Albertson

Energy, Oil & Gas Market Manager

Parker Hannifin Corp., EPS Division

2220 South 3600 West

Salt Lake City, UT 84119

Tel: (801) 977-5335

Fax: (801) 972-4777

kralbertson@parker.com
More from Laboratory and Research Supplies and Equipment