Sealing Gasket is available in sizes ranging from 1-8 in.
Press Release Summary: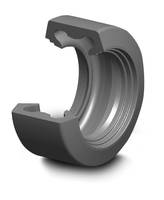 Designed for low-temperature performance applications, patent pending Flush Gap(TM) gasket features triple sealing ribs on each gasket seal face. It contains center rib which fits flush over gap between pipe ends and closes off gasket cavity, allowing for reduction of buildup of moisture and ice which can cause leakage under freezing conditions. When combined with Gruvlok Xtreme(TM) lubricant, Flush Gap(TM) provides gasket seal for grooved couplings in extreme temperature applications.
---
Original Press Release:

Anvil International Introduces New Flush Gap(TM) Gasket



Patent Pending Gasket Features Enhanced Seal Ability in Low Temperatures

(Portsmouth, NH) June 11, 2009 - Anvil International, the world's largest fitting manufacturer, introduces an enhanced sealing Flush Gap(TM) gasket, the Company announced today. The gasket, which is Patent Pending, is specifically designed for applications where low-temperature performance is needed. Anvil International is a subsidiary of Mueller Water Products, Inc. (NYSE: MWA).

The new gasket is available in a variety of sizes ranging from 1 inch to 8 inches. It contains a center rib which fits flush over the gap between the pipe ends and closes off the gasket cavity. This allows for the reduction of build up of moisture and ice which can cause standard gasket designs to leak under freezing conditions.

The Flush Gap(TM) gasket also features triple sealing ribs on each gasket seal face, which enhance seal ability under less than ideal pipe surfaces. When combined with the Gruvlok Xtreme(TM) Lubricant, which eliminates water wash out and which does not dry out like standard product lubricants, the Flush Gap(TM) with triple seal ribs provides the best gasket seal for grooved couplings in extreme temperature applications.

To learn more about Anvil International and the products available for a wide variety of piping applications, visit our Web site at www.anvilintl.com.

About Anvil® International

Anvil International is the world's largest and most complete manufacturer of piping connections and support systems. For over 150 years, Anvil's products, services and representatives have earned a reputation for building dependable, lasting connections -pipe to pipe and people to people. The company's manufacturing facilities are located in Pennsylvania, Tennessee, Texas, Rhode Island and Ontario, Canada. All Anvil manufacturing facilities are ISO 9001-2000 certified with the exception of Houston, TX, which is an API certified facility. Anvil is a subsidiary of Mueller Water Products, Inc.

For more information please contact

Anvil's corporate offices at 603-422-8000,

110 Corporate Drive,

Suite 10,

Portsmouth, NH 03801,

or visit the Web site at www.anvilintl.com.

About Mueller Water Products

Mueller Water Products is a leading North American manufacturer and marketer of infrastructure and flow control products for use in water distribution networks and treatment facilities. Its broad product portfolio includes engineered valves, fire hydrants, ductile iron pipe and pipe fittings, which are used by municipalities, as well as the residential and non-residential construction, oil and gas, HVAC and fire protection industries. With latest 12 months net sales of $1.7 billion, the Company is comprised of three operating segments: Mueller Co., U.S. Pipe and Anvil. Based in Atlanta, Georgia, the Company employs approximately 5,400 people. Mueller Water Products Series A common stock trades on the New York Stock Exchange under the ticker symbol MWA. For more information about Mueller Water Products, please visit the Company's Web site at www.muellerwaterproducts.com.

For More Information Contact:

John Smayda,

Vice President Marketing,

Anvil® International

440.257.1332

jsmayda@anvilintl.com

More from Construction Equipment and Supplies