Sealed SMT Tact Switches deliver up to 5 million cycles.
Press Release Summary: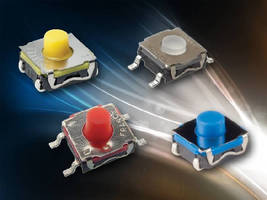 Featuring momentary action, SPST contact arrangement, IP67-rated KSC Series withstands intensive use in industrial environments. Shared features of all ultra-long life switches include: dielectric strength ≥250 Vrms, contact resistance <0.1 Ω, insulation resistance >10 MΩ, and bounce time <1 ms. Switches are rated for 32 Vdc maximum voltage, with 50 mA maximum current for silver contacts (-40 to 85°C), and 10 mA maximum current for gold contacts (-40 to 125°C).
---
Original Press Release:

C&K Introduces New Five-Million-Cycle Ultra Long Life SMT Tact Switches for Demanding Applications



Designed to withstand intensive use in elevator, joystick, automotive, industrial, medical, & aircraft applications, the new IP67-rated KSC Series ultra long life switches are completely customizable with regard to haptics, resistance, & durability



NEWTON, MA  – C&K Components, a leading global manufacturer of electromechanical switches, smart card interconnect devices, and high reliability connectors, has expanded its KSC Series sealed SMT tact switches with the addition of four ultra long life switches that deliver up to five million cycles. Featuring momentary action functionality, single-pole, single-throw (SPST) contact arrangement, the IP67-rated KSC Series ultra long life switches are designed to withstand intensive use in various industrial environments, and are available with a wide variety of actuators designed to satisfy specific application requirements with regard to dimensions, haptics, tactile resistance, and durability. As such, the new ultra long life KSC Series switches are ideal for a range of demanding applications, including: elevator, joystick, automotive, industrial, medical, and aircraft applications.



The customizable haptic and acoustic response of KSC Series switches makes them ideal for interior automotive controls, and their IP67 sealing and durability make them well suited for exterior automotive applications, including door handles and trunk openers. Their durability, rugged sealing, and resistance against steam and corrosive agents make them an ideal solution for harsh industrial applications, such as fire alarm detectors and anti-tampering applications. These features, in combination with the series' excellent tactile feedback, also enable KSC Series switches to be used in surgery tools and other medical applications, cockpit control units, high-end stereo equipment, and network infrastructure and IT equipment.



"C&K has been enhancing the performance, quality, and configuration capabilities of the KSC Series tact switches for more than 15 years now," said Jerome Smolinski, global product manager, C&K Components. "As a result, the SMT KSC Series is much more than a product series with defined characteristics; it is a system that enables various configurations of actuators, domes, and housings to deliver complete, custom, and cost-effective switch solutions capable of satisfying nearly any application requirements in terms of haptics and durability."



Shared features of all KSC Series ultra long life SMT tact switches include: dielectric strength ≥250Vrms, contact resistance <0.1Ω, insulation resistance >10MΩ, and bounce time <1ms. KSC Series switches are rated for 32VDC maximum voltage, 50mA maximum current for silver contacts (-40°C and 85°C), and 10mA maximum current for gold contacts (-40°C and 125°C). Additionally, all four ultra long life switches — the KSC2, KSC4, KSC7, and KSC10 Series — are available with either J-bend and gullwing terminals, and are packaged on continuous tape and reel in quantities spanning 1,000 to 2,000 pieces.



For more information about C&K's KSC Series ultra long life sealed SMT tact switches, please visit http://www.ck-components.com/14422/ksc.pdf/ to download the KSC Series datasheet, http://www.ck-components.com/95058/ksc_ull_us.pdf/ to download the KSC Series ultra long life flyer, http://www.ck-components.com/product-matrix,21142,en.html  to view the product series matrix, and http://www.ck-components.com/sales-locator.html to locate an authorized distributor near you. For all other inquiries, please visit http://www.ck-components.com/  or call 617-969-3700.



About C&K Components  

C&K Components is a leader in interface and switch technology, as well as smart card and high reliability connector products. C&K Components offers more than 55,000 unique part numbers that are built, priced, and delivered as standard catalog items. www.ck-components.com



Leads Contact:

Allison Turner

C&K Components

15 Riverdale Ave.

Newton MA 02458

Tel: 617.969.3700

allison.turner@ck-components.com



For more information, contact:

Allison Turner

C&K Components

617-969-3700

allison.turner@ck-components.com

More from Mechanical Power Transmission