Sealed Air Corporation's Protective Packaging Business Unit Launches First Protective Packaging Mobile App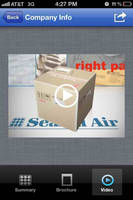 SADDLE BROOK, N.J. - Sealed Air today unveiled a brand-new mobile application developed to arm distributors with the most current information, images and videos of Sealed Air protective packaging products and systems. The first in the protective packaging market, the Sealed Air Protective Packaging Solutions App now is available for free download at www.sacpackapp.com.

The Sealed Air Protective Packaging Solutions App enhances communication between distributors and their customers by providing a more efficient and easily-updated means for receiving and sharing product information. Access to the latest sales tools from their iPhone or iPad now is more mobile and convenient than ever before.

"Sealed Air continuously searches for innovative ways to communicate our breadth of offerings with our customers." said Eileen Curran, director of marketing communications for Sealed Air Protective Packaging. "When a distributor walks into a sales pitch with an iPad or iPhone instead of a stack of product catalogs, they will have at their fingertips a tool that enables them to share with their customers the most up-to-date product information in an interactive format."

A key feature of the application is that it does not require an internet connection, allowing distributors to access the product information from anywhere. Through the application, users also will have the ability to share brochures and videos via email, Twitter or Facebook.

The user-friendly application is comprised of three sections: company info, Packaging Design and Development Centers (PDDC) and products. The "overview" segments include Sealed Air's history, sustainability initiatives and Sealed Air's worldwide network of PDDCs. When users enter the "product" section of the app, they have the ability to access images and videos demonstrating a number of Sealed Air protective packaging solutions in action.

To learn more about the Sealed Air Protective Packaging Solutions Mobile App, please call 1-800-648-9093 or visit www.sacpackapp.comto download the App.

About Sealed Air

Sealed Air is the new global leader in food safety and security, facility hygiene and product protection. With widely recognized and inventive brands such as Bubble Wrap®brand cushioning, Cryovac® brand food packaging solutions and Diversey® brand cleaning and hygiene solutions, Sealed Air offers efficient and sustainable solutions that create business value for customers, enhance the quality of life for consumers and provide a cleaner and healthier environment for future generations. On a pro forma basis, Sealed Air generated revenue of $8.1 billion in 2011, and has approximately 26,300 employees who serve customers in 175 countries. To learn more, visit www.sealedair.com.

More from Agricultural & Farming Products