Sealant acts as backup to field-applied caulking.
Press Release Summary: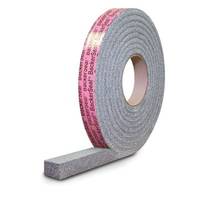 BACKERSEAL high-performance secondary sealant is designed for panelized wall systems, as well as concrete, brick, and stone structures. It consists of acrylic-impregnated cellular foam combined with laminations of closed-cell EVA foam. Non-staining sealant is compatible with wide range of caulking and substrate materials, and comes pre-compressed to smaller-than-joint-size with mounting adhesive on one face.
---
Original Press Release:
EMSEAL Offers BACKERSEAL for Wall Joint Sealant Applications
High Performance Secondary Sealant is Ideal Back-Up for Field-Applied Caulking WESTBOROUGH, MA and TORONTO, ON - EMSEAL, the leading manufacturer of premium sealants and expansion joints, announces the availability of BACKERSEAL. An economical, high-performance secondary sealant to field-applied caulking, BACKERSEAL is ideal for panelized wall systems, as well as concrete, brick, and stone structures and is uniquely suited to sealing window, door and other penetrations in the building envelope and air barrier assemblies. BACKERSEAL consists of acrylic-impregnated cellular foam combined, in certain sizes, with laminations of closed-cell EVA foam. BACKERSEAL is non-staining and compatible with a wide range of caulking and substrate materials. It is used as a secondary sealant behind conventional backer-rod and liquid sealants, or alternatively behind directly-applied liquid sealants. BACKERSEAL is a practical-to-install alternative to widely specified "double caulk and backer-rod" design. Double caulk and backer-rod is notoriously difficult to install to function properly and contradictory in principle to the goal of redundant sealing assurance it is intended to impart. BACKERSEAL behind one layer of caulk provides true "belt and suspenders" sealing-two systems performing the same function on different principles-thereby providing the best assurance that the building won't leak. In addition, BACKERSEAL features an insulation R-Value that can eliminate the thermal break in the building envelope created at building joints. BACKERSEAL is supplied pre-compressed to smaller-than-joint-size with a mounting adhesive on one face. It is inserted into the joint and adhered to one side, and then expands to seal the joint. Sealing between the foam and substrate is achieved through a combination of the pressure-sensitive adhesive nature of the impregnation emulsion and the back pressure of the expanding foam. About EMSEAL EMSEAL is the leading manufacturer of premium sealants and expansion joint systems for the commercial construction industry as well as for numerous gasketing applications in specialty market applications. The company has operated out of locations in the Greater Toronto Area in Canada and the Northeast United States for over twenty-five years. For more information call 800-526-8365 or visit the EMSEAL corporate website: www.emseal.com. URL: www.emseal.com Contact Name: Lester Hensley Organization: EMSEAL Title: President & CEO E-mail: [email protected]