SDR Rapid Prototyping Kit supports MIMO wireless transceivers.
Press Release Summary: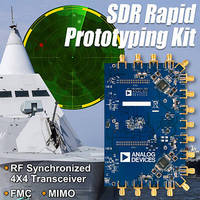 Featuring FPGA mezzanine card with dual 2 x 2 AD9361 RF transceivers, Model AD-FMCOMMS5-EBZ enables rapid prototyping of 4 x 4 multiple-input multiple-output wireless transceiver applications on Xilinx® Zynq®-7000 All Programmable SoC development platforms. Software-defined radio prototyping kit also includes reference designs, design and simulation tools for MathWorks, hardware description language code, and device drivers for Zynq-7000 All Programmable SoCs.
---
Original Press Release:

First Synchronized RF Transceiver Rapid Prototyping Kit for SDR Launched



Features Analog Devices's award-winning dual AD9361 RF Transceiver ICs; new SDR design resources for multi-channel synchronization and system simulation



NORWOOD, Mass. -- Analog Devices, Inc. (NASDAQ: ADI) released today the industry's first software-defined radio (SDR) rapid prototyping kit with dual 2 x 2 AD9361 RF transceivers to simplify and rapidly prototype 4 x 4 multiple-input multiple-output (MIMO) wireless transceiver applications on the Xilinx® Zynq®-7000 All Programmable SoC development platforms. The AD-FMCOMMS5-EBZ rapid prototyping kit provides a hardware/software ecosystem solution addressing the challenges of SDR transceiver synchronization experienced by RF and analog designers when implementing systems using MIMO architectures. Watch this webinar and find out how to synchronize multiple RF transceivers in high-channel density applications: http://www.analog.com/en/content/wc_developing_multiple_input_multiple_output/webcast.html.



The AD-FMCOMMS5-EBZ rapid prototyping kit includes: an FPGA mezzanine card (FMC) featuring two of Analog Devices' award-winning AD9361 2 x 2 RF Transceivers and support circuitry, reference designs, design and simulation tools for MathWorks, HDL (hardware description language) code, device drivers for Zynq-7000 All Programmable SoCs and online support at ADI's EngineerZone for rapid prototyping to reduce development time and risk.



View this video about Analog Device's rapid prototyping kits: http://videos.analog.com/video/products/rf-ics/3701552681001/Synchronized-RF-Transceiver-Rapid-Prototyping-Kit-for-SDR/



To learn more and order the AD-FMCOMMS5-EBZ: www.analog.com/ad-FMCOMMS5-EBZ

To learn more about ADI's SDR portfolio: www.analog.com/sdr

Connect with engineers and SDR experts on EngineerZone™, an online technical support community: https://ez.analog.com/community/wide-band-rf-transceivers



The AD-FMCOMMS5-EBZ rapid prototyping kit is the fifth SDR rapid prototyping kit ADI has introduced in the last year to help customers address the global SDR market that is expected to double to $28 billion by 2020*. SDR MIMO applications range from defense electronics and RF instrumentation to communications infrastructure and include active antennas, transmit beamforming, receive angle of arrival systems and open-source SDR development projects.



About The AD9361 RF Transceiver

The AD9361 operates over a frequency range of 70 MHz to 6 GHz. It is a complete radio design that combines multiple functions, including an RF front end, mixed-signal baseband section, frequency synthesizers, two analog-to-digital converters and two direct conversion receivers in a single chip. The AD9361 supports channel bandwidth from less than 200 kHz to 56 MHz, and is highly programmable, offering the widest dynamic range available in the market today with state-of-the-art noise figure and linearity.



Design and Simulation Tools for ADI RF Transceivers

SimRF™ by MathWorks provides a simulation engine for designing RF systems and includes models of the AD9361 and AD9364 for a seamless transition from software simulation to hardware in the loop. In addition, the FIR Filter Design MATLAB® application can be used to select and design digital filters for the AD9361 with minimum trial and error, create custom filters, and examine filter performance. The output can be exported into a SimRF model or hardware. ADI offers a comprehensive suite of RF design tools including ADIsimRF™, ADIsimPLL™, and ADIsimCLK™.



Pricing and Availability                              


| | | | |
| --- | --- | --- | --- |
| Part Number | Availability | Unit Price | Package |
| AD-FMCOMMS5-EBZ | NOW | $1125 | FMC |

                           

About Analog Devices, Inc.

Innovation, performance, and excellence are the cultural pillars on which Analog Devices has built one of the longest standing, highest growth companies within the technology sector. Acknowledged industry-wide as the world leader in data conversion and signal conditioning technology, Analog Devices serves over 60,000 customers, representing virtually all types of electronic equipment. Analog Devices is headquartered in Norwood, Massachusetts, with design and manufacturing facilities throughout the world. Analog Devices is included in the S&P 500 Index. www.analog.com.



Follow ADI on Twitter at http://www.twitter.com/ADI_News



Subscribe to Analog Dialogue, ADI's monthly technical journal, at: http://www.analog.com/library/analogDialogue/



* Forecast Analysis to 2014–2020

(Defense, Commercial & Homeland Security)

SOFTWARE DEFINED RADIOS MARKET

MarketsandMarkets.com



Contacts

Analog Devices, Inc.

Bob Olson, 781-937-1666

Bob.olson@analog.com

Related