SDR Module suits UAV, radar, and communications applications.
Press Release Summary: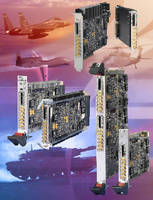 Based on Xilinx Virtex-7 FPGA, Onyx(TM) Model 71760 provides 4 GB DDR3 memory at 1,600 MHz. Four-channel, 16-bit, 200 MHz A/D module includes external sample clock synchronization and VITA 42.0 XMC-compatible switched fabric interface. Native Gen 3 PCIe interface delivers peak speeds up to 8 GBps, while FPGA comes pre-configured with built-in functions for data capture, synchronization, tagging, and formatting.
---
Original Press Release:

Pentek Debuts First in a Family of Virtex-7 FPGA SDR Modules for Demanding UAV, Radar and Communications Applications

Xilinx Virtex-7 FPGA expands logic and DSP capacity with minimal power increase

Provides high-performance migration path for popular Cobalt Virtex-6 FPGA modules

On-board DDR3 memory boosts density and speed to 4 GB at 1600 MHz

Native Gen3 PCIe interface doubles I/O throughput

COCOA BEACH, FL, Embedded Tech Trends Conference - Pentek, Inc., today introduced the first member of its high-performance Onyx(TM) family - the Model 71760. The 4-channel, 200 MHz A/D XMC module is based on the Xilinx Virtex-7 FPGA family. Pentek's Onyx modules use the same modular I/O interfaces as the popular Virtex-6 FPGA Cobalt® family, while boosting memory, logic and I/O performance. The Onyx Model 71760, for instance, is similar to the Cobalt 71660, but has twice the memory capacity and I/O bandwidth, addressing the most challenging unmanned aerial vehicle (UAV), radar and communication applications.

"Onyx is a strategic extension of our successful Cobalt line," said Rodger Hosking, vice president of Pentek. "With higher-speed A/Ds and D/As, and tougher DSP algorithms, we needed more horsepower to keep pace. Pentek leveraged the modular architecture of the Cobalt family, along with the latest Xilinx FPGA technology, to provide customers a broader range of price and performance options and a future path for the most demanding signal processing applications." Hosking added that Pentek intends to release at least twelve additional Onyx family modules during 2012.

"Pentek is among the first customers to leverage the high-performance, low-power Virtex-7 FPGA family," said Brent Przybus, director of High-End FPGA platforms at Xilinx. "As with all our 28nm 7 Series FPGA families, our goal is to deliver a scalable, unified FPGA offering with optimized features to increase the performance and flexibility customers need at the lowest possible power consumption."

Boosting Performance, Retaining Architecture

As the first in the Onyx product line, the Model 71760 exemplifies the relationship of the Onyx and Cobalt families. The Onyx Model 71760 shares many of the same architectural and front-end characteristics as the similar Cobalt Model 71660 module: a four-channel, 16-bit, 200 MHz A/D, external sample clock synchronization and a VITA 42.0 XMC-compatible switched fabric interface.

The similarity of the two families gives developers the opportunity to port software developed for Cobalt modules to the corresponding Onyx modules with a minimum of effort. All ReadyFlow tools work with both families, further simplifying the software development effort. Thus, developers will be able to migrate from Cobalt to Onyx modules as their performance needs increase, or begin development on Cobalt modules until release of the corresponding Onyx module.

Architectural enhancements in the Onyx family include a doubling of the DDR3 memory in both size and speed to 4 GB and 1600 MHz, respectively. The PCIe interface has been upgraded to Gen 3, delivering peak speeds up to 8 GB/sec. The 71760 FPGA comes preconfigured with a suite of built-in functions for data capture, synchronization, tagging and formatting, making the board an ideal turn-key interface for radar, communications or general data acquisition applications. For systems that require custom functions, IP can be developed using the Xilinx ISE Design Software and the Pentek GateFlow FPGA Design Kit, extending or even replacing the factory installed functions. The Onyx architecture now includes enhanced FPGA loading modes to simplify live reconfiguration.

Pricing and Availability

The Model 71760 XMC module with 4 GB of memory starts at $15,995 USD, with versions also in PCIe, cPCI and VPX formats. Additional FPGA options are available and Pentek expects to release advanced mezzanine card (AMC), ruggedized and extended temperature versions of the Model 71760 later in 2012. Delivery is 12-14 weeks ARO.

About Pentek

Pentek develops, manufactures and markets innovative DSP systems and recorders to original equipment manufacturers, distributors and value-added resellers. Pentek offers powerful VME, VPX, VXS, PMC, XMC, cPCI, PCI, PCIe and AMC boards for data acquisition, software radio and digital signal processing featuring Texas Instruments C6000 DSPs, Freescale G4 PowerPCs and Xilinx FPGAs. Pentek's I/O includes A/Ds, D/As, FPGAs, digital up/downconverters and more. Pentek equips all products with high-performance I/O including gigabit serial interfaces and offers strong DSP software support.

Pentek, Cobalt, Onyx, GateFlow and ReadyFlow are trademarks or registered trademarks of Pentek, Inc. Brand or product names are registered trademarks or trademarks of their respective holders.

For access to the release and data sheets, please visit: www.pentek.com/whatsnew/viewrelease.cfm?index=161

North American Sales Contact: Mario Schiavone, Pentek, Inc., One Park Way, Upper Saddle River, NJ 07458-2311; Telephone 201-818-5900, ext. 770; Fax 201-818-5904; Email news@pentek.com; Website www.pentek.com.

International Sales Contacts: Elexo in France at (33) 0141 22 1023, Galleon Embedded Computing in Germany at (49) 89 5908 2101, LVD Systems in Italy at (39) 011 966 1319, RECAB AB in Sweden at (46) 8 6830300, Advanced Embedded Systems in the UK at (44) 0 1202 885 675, Sela Electronic Systems in Israel at (972) 3 6479969,MISH International in Japan at (81) 42-538-7650, Beijing Betaone Sysjob Ltd. in China at (86) 10 82784106 and Acetronix Co. Ltd. in Korea at (82) 24202343, ext. 106, Dynamic C4 Pte. Ltd. In Singapore, Malaysia and Indonesia at (65) 6405 4506. For a list of Pentek representatives and distributors, please visit www.pentek.com/contact/replist.pdf.

More from Electronic Components & Devices