SD560B Rectifier features UL 94V-O rated molded plastic casing.
Press Release Summary: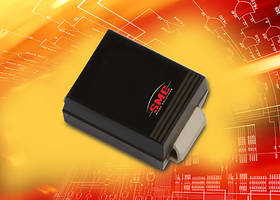 Used in switchmode power supplies, UPSs, DC-DC converters, lighting circuits, industrial ballasts and motor speed control circuits, SD560B Rectifier is designed with 5 A IO rating, 600 V VRRM and 200 A IFSM rating. Minimizing reverse energy loss, unit offers 50 pF at 4V, I MHz junction capacitance and 9µA low idle current. Operated in -65 °C to 175 °C temperature range, rectifier comes in 2.5mm (H) x 4.65mm (L) x 3.75mm (W) case and weighs 0.68 g.
---
Original Press Release:
SMC Diode Solutions Announces SMB Rectifier in Low-Profile (DO-214AA) Package Optimized for Space Constrained Applications
Device Features a High Forward Output Current Rating of 5A and Reverse Voltage of 600V
SMC Diode Solutions, a global leader in the design, manufacturing and marketing of discrete semiconductors, voltage regulators, and die and wafer devices, today announced the availability a general-purpose high voltage SMD rectifier in low-profile (DO-214AA) size format. The SD560B rectifier uniquely combines a compact footprint and 2.5mm profile with an average rectified output current (IO) rating of 5A continuous and a reverse voltage (VRRM) rating of 600V. The component additionally provides a robust forward surge rating (IFSM) of 200A, making it well suited for switching and linear power supplies.
Primarily specified as an input rectifier to convert alternating line voltage to usable DC, the SD560B is appropriate in an extensive range of uses, such as a general-purpose rectifier, freewheeling diode, or reverse polarity protection device in applications where space is limited and long life and reliability are critical. The device is employed in an array of electronic devices and equipment, including high voltage regulated power supplies, switchmode power supplies, UPSs, AC-DC adapters/chargers, DC-DC converters, lighting circuits, industrial ballasts, temperature and motor speed control circuits.
SMC's SD560B provides a low forward voltage drop (VF) of 1.2V max. (IF = 5A) to reduce heat dissipation and maximize energy efficiency, as well as a low idle current of 9µA max. (TA = 25°C, 600V) to minimize reverse energy loss. Typical junction capacitance (Cj) is 50pF @ 4V, 1MHz.
Designed for automated placement efficiencies, the glass-passivated component features a rugged maximum operating junction temperature range of -65 °C to 175 °C and an MSL moisture sensitivity level of 1 per J-STD-020. It is RoHS-compliant and supplied in a UL 94V-O rated molded plastic case, made of a "Green" molding compound. Its solder plated terminals are solderable per MIL-STD-750, Method 2026. The rectifier measures 2.5mm (H) x 4.65mm (L) x 3.75mm (W), and weighs approximately 0.68 grams.
Per-piece pricing for the SD560B SMD rectifier ranges from approximately $0.087/1,000 to $0.47/1. Production quantities are immediately available in tape-and-reel. Samples, quotes and parts are available online from Digi-Key
About SMC Diode Solutions
Founded in 1997, SMC's (Sangdest Microelectronic Company) extensive portfolio of discrete semiconductors, voltage regulators, and die and wafer devices were formerly sold under the Sensitron Semiconductor brand name. These high-reliability components are uniquely engineered to meet the global requirements of a broad range of mission-critical applications in the industrial, telecom, automotive, COTS Military, computing, aerospace, medical, LED lighting, consumer, power supply and alternative energy markets. SMC's manufacturing facilities are certified to ISO9001, ISO14001 and TS16949 industry standards. SMC maintains a network of manufacturing, sales and design facilities in strategic markets throughout North America, Europe, and the Asia Pacific regions. Visit www.SMC-Diodes.com for additional information and a full listing of SMC's global distribution partners.
CONTACT:
Mark LaPointe
SMC Diode Solutions
101 Sunnyside Boulevard
Plainview, NY 11803
(631) 965-0869
More from Optics & Photonics