SD Card Reader features push/push system.
Press Release Summary: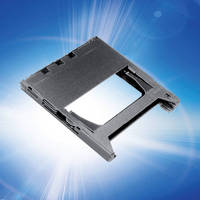 With height of 2.8 mm, FPS009-2409-0, push/push SD/MMC card connector is designed for SMT mounting on top side of PCB assembly. It offers smooth card insertion and extraction via push-in/push-out mechanism with defined ejection, soft lock mechanism for SD card, 2-point contacts to protect against electrical interruptions as well as automatic card detector and write protection switch.
---
Original Press Release:

New SD Card Reader with Push/Push System



MMC card standard also compatible

Munich, June 2009 - Yamaichi Electronics now offer the FPS009-2409-0, a new push/push SD/MMC card connector.

The well-known top mount component FPS009-2405-0 for SD and MMC cards has been revised and replaced by the improved card holder FPS009-2409. The PCB layout is unmodified compared to the old version which means that the new card reader can be used with the existing layout.

The low profile design with its 2.8 mm has almost the same height as the SD card itself (2.1 mm). The top-mount card reader is conceived for SMT mounting on the top side of the PCB assembly. It offers comfortable functions, e.g. smooth card insertion and extraction via push-in/push-out mechanism with defined ejection, soft lock mechanism for the SD card, innovative two-point contacts to protect against electrical interruptions as well as automatic card detector and write protection switch. The SMT component is delivered on tape & reel for fully automated pick and place assembly.

This SD/MMC flash memory card reader supports wireless communication, portable computer, end-consumer and other applications.

Yamaichi Electronics do not only offer this low size component but a wide range of card connectors for all available Flash and SIM card types with different form factors like microSD, miniSD, MMCmicro, CompactFlash, xD Card etc. Several multicard versions are also available.

More technical details, electrical specifications and further products for mobile and other applications can be found under www.yamaichi.eu or directly in the datasheet www.yamaichi.eu/pdf/c_fps009_2409.pdf or in the catalogue "Connectors & Sockets 2009" which can be ordered on the website.

For any product queries, please contact

Manuela Sprich

manuela.s@yamaichi.de.

About Yamaichi Electronics
Yamaichi is a market leader for test & burn-in sockets, connectors and connection systems - areas in which reliability and function safety are essential for the success of the whole project. Yamaichi has established itself very quickly on the world market as a manufacturer of high-quality and reliable components for ambitious applications in the following sectors: telecommunications infrastructure, industrial automation, mobile computer technology, mobile telephones, GPS systems, printers, digital cameras, camcorders, as well as electronic devices in the retail trade, industry and electronics.

Yamaichi Electronics Deutschland GmbH

Karl-Schmid-Str. 9,

81829 München,

Germany

Tel. +49 (0)89 - 4 51 09-0

Fax: +49 (0)89 - 4 51 09-110

www.yamaichi.eu

More from Packaging Products & Equipment