SD Adapter makes handhelds compatible with USB memory devices.
Press Release Summary: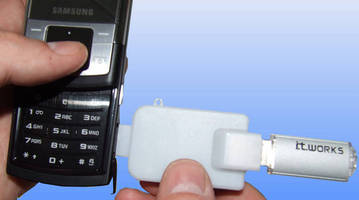 Once plugged into SD memory slot on mobile/cell phone, smart phone, or PDA and interfaced with USB memory device to 32 GB max, Mobidapter permits accelerated transfer of text files, images, PowerPoint documents, etc. Files can be transferred anywhere, without PC and in all OSs, and no drivers are required. Supporting SD and SDHC hosts, USB memory stick reader can also be used with mini- SD sockets using adapter. Product can also be used with other devices featuring SD slot.
---
Original Press Release:

Saelig's SD Adapter Makes Cellphones/PDAs Compatible with USB Memory Devices



Saelig's SD Adapter Makes Cellphones/PDAs Compatible with USB Memory Devices

Pittsford, NY, USA: Mobidapter, newly introduced by Saelig Company, Inc. , is a USB memory stick reader which plugs directly into the SD memory slot on mobile/cell phones, smart phones and PDAs, permitting - for the first time - reliable, rapid transfer of files from USB sources. Just insert Mobidapter to a phone's SD slot, connect it to a USB memory device, and - in an instant - text files, images, PowerPoint files, can be e-mailed. Now files can be transferred anywhere - without a PC - in all operating systems since no drivers are required.

USB memory sticks have become the de facto way to carry and transfer data, but until now it has been impossible to connect them to mobile phones and PDAs. Mobidapter works with any make of mobile/cell phone, SmartPhone or PDA that features an external SD socket. It can also be used with mini- SD sockets using simple adapter. Both SD and SDHC hosts are supported. In effect, Mobidapter becomes a standard USB host connector, interfacing with USB memory devices to a maximum 32GB.

Mobidapter can be used with many other devices, such as TV's, PDA's, GPS devices and Digital Picture Frames. It is now possible to transfer data such as pictures, MP3 files, Microsoft Office applications, or any type of file from a standard USB memory stick to and from a mobile device. Last minute data sent from head office while you are in the field - but no Internet access? No problem! Download it via your cellphone to a memory stick - and hence your laptop - using Mobidapter.

Mobidapter is compatible with virtually all of the latest phones with an external SD memory slot and all standard USB memory sticks. Power is provided from the host device so no batteries are needed. Applications include: instant transfer of images, music and data between phones, PDAs, MP3/4 players from any location; data backups; work files, etc. See the Mobidapter in action: http://www.elandigitalsystems.com/adapter/mobidapter.php

Mobidapter offers unbeatable convenience and is available now from $39.95 each from Saelig Company Inc. Pittsford NY. For detailed specifications, free technical assistance, or additional information, please contact Saelig (toll-free in the US) 1-888-7SAELIG, via email: info@saelig.com, or visit www.saelig.com

Hi-Res Image: www.saelig.com/supplier/elan/mobidapter.jpg

Direct Link: www.saelig.com/pr/mobidapter.html

Contact Information
email: info@saelig.com
phone / fax: 585-385-1750 / 585-385-1768
web: www.saelig.com

More from Packaging Products & Equipment