SCSI Bus Terminators meet SCSI-1 to SPI-4 standards.
Press Release Summary: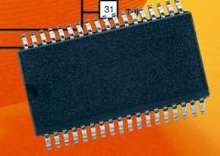 Available in 9-, 14-, and 15-line models, multi-mode Series SiP56xx is built on high-voltage, 0.8 micron BiCMOS process. Each output channel provides termination for one SCSI data signal, parity signal, or control signal. Termination provides impedance matching of SCSI bus to minimize signal reflections from end of bus, as well as required SCSI bus biasing for S/E or LVD operation. Units sense operational state of SCSI bus and automatically switch to S/E or LVD operation.
---
Original Press Release:

Vishay's New S/E and LVD SCSI 9-, 14-, and 15-Line Bus Terminators in Lead (Pb)-Free Packages Meet SCSI-1, SCSI-2, SPI-2 (ULTRA-2), SPI-3 (ULTRA-160), and SPI-4 (ULTRA-320) Standards


SANTA CLARA, CALIFORNIA - January 4, 2005 - A new family of SCSI (small computer systems interface) bus terminators that provides flexible solutions for all SCSI bus operational modes from SCSI-1 to SPI-4 (Ultra 320) was announced today by Siliconix incorporated (NASDAQ: SILI), an 80.4%-owned subsidiary of Vishay Intertechnology, Inc. (NYSE: VSH).

Built on Vishay's high-voltage 0.8-micon BiCMOS process, which enables production of a broad range of competitively priced SCSI products, these new terminator ICs serve as pin- and function-compatible, lead (Pb)-free replacements for the industry-standard UCC56xx series of SCSI terminators.

The new SiP56xx SCSI terminator family from Vishay Siliconix is intended for use in backplanes, host adapters, cabling in RAID disk arrays, storage area networks (SANs), network attached storage (NAS), servers and workstations, industrial computers, and high-end personal computers.

The six devices released today are the SiP5630 and SiP5670 9-line multi-mode terminators, the SiP5628 and SiP5668 14-line terminators, and the SiP5638 and SiP5678 15-line terminators.

Each of the new multi-mode terminators' output channels provides termination for one SCSI data signal, parity signal, or control signal. The termination provides impedance matching of the SCSI bus to minimize signal reflections from the end of the bus, as well as the required SCSI bus biasing for either single-ended (S/E) or low voltage differential (LVD) operation.

Like the popular UCC5630A and UCC5670, the 9-line SiP5630 and SiP5670 feature a 2.7-V to 5.25-V TERMPWR range for all S/E and LVD specifications. Both provide a master/slave input and status indicator pins. They are available in a lead (Pb)-free, thermally enhanced QSOP-36 package.

The new SiP5628 and SiP5668 14-line terminators and SiP5638 and SiP5678 15-line terminators all are available in a thermally enhanced lead-free SQFP-48 package. The 14-line SiP5628 and SiP5668 terminators serve as an alternate source to the UCC5628, while the 15-line SiP5638 and SiP5678 provide designers with an alternate source to TI's UCC5638. Both 14-line terminators also feature status indicator pins.

The new multi-mode SCSI bus terminators announced today sense the operational state of the SCSI bus via the DIFFSENS bus signal and automatically switch to S/E or LVD operation as required, thereby allowing designers to order and implement a single device for newer LVD products and for the older SE devices that remain in use today. If a high-power differential (HPD) device is used with the SCSI bus, the terminator IC shifts into high impedance mode. The new terminators also present high impedance to the SCSI bus if the DISABLE pin is asserted or if the TERMPWR supply voltage is removed from the IC.

The SiP5668, SiP5670, and SiP5678 multi-mode terminators all feature an integrated SPI-3 delay filter. This on-chip mode-change delay enables designers to reduce the size and cost of external passive components for significant board space savings in SPI-3 designs.

To meet the termination resistance requirements of the SCSI standards Vishay uses fusible link technology to trim the termination value. All six devices are rated for operation over a temperature range of 0 °C to +70 °C.

Vishay Siliconix also plans to release a 27-line programmable terminator in a lead-free LQFP-80 package that will serve as an alternate source for the UCC5696. By providing precise active termination for 27 LVD SCSI bus lines, the device will achieve peak bus performance, permitting the manufacture of more robust and reliable ULTRA320 and ULTRA640 systems. This programmable device will be ideal for backplanes that have a lower bus impedance in the 60-ohm to 90-ohm range.

Vishay Siliconix is a member of STA, the SCSI Trade Association.

Samples and production quantities of the new 9-, 14-, and 15-line SCSI terminators are available now with lead times of 8 to 12 weeks for larger orders.

Siliconix is a leading manufacturer of power MOSFETs, power ICs, analog switches, and multiplexers for computers, cell phones, fixed communications networks, automobiles, and other consumer and industrial electronic systems. With 2003 worldwide sales of $392.1 million, the Company's facilities include a Class 1 wafer fab dedicated to the manufacture of power products in Santa Clara, California, and an affiliated Class 1 wafer fab located in Itzehoe, Germany. The Company's products are also fabricated by subcontractors in Japan, Germany, China, Taiwan, and the United States. Assembly and test facilities include a company-owned facility in Taiwan, a joint venture in Shanghai, China, and subcontractors in the Philippines, China, Taiwan, and Israel.

Vishay, a Fortune 1,000 Company listed on the NYSE, is one of the world's largest manufacturers of discrete semiconductors (diodes, rectifiers, transistors, optoelectronics, and selected ICs) and passive electronic components (resistors, capacitors, inductors, and transducers). The Company's components can be found in products manufactured in a very broad range of industries worldwide. Vishay is headquartered in Malvern, Pennsylvania, and has operations in 17 countries employing over 26,000 people. Vishay can be found on the Internet at www.vishay.com.

More from Communication Systems & Equipment