Screwfeeder can accommodate up to 11 different sized screws.
Press Release Summary: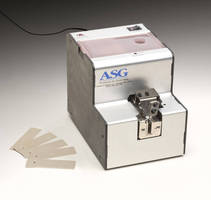 Featuring fully adjustable rail system, precision screwfeeder can hold 1.0, 1.2, 1.4, 1.7, 2.0, 2.3, 2.6, 3.0, 3.5, 4.0, and 5.0 mm screws. It feeds fasteners with less than 19 mm under head length, and can also accommodate screws with captive washers. Adjustable bit guide in automatic feeder allows use of most standard bits.
---
Original Press Release:

New Automatic Screwdriver Accommodates 11 Screw Sizes



Adjustable Rail System Offers Flexibility

CLEVELAND, OH- November 13, 2008 - A new precision screwfeeder has been announced by ASG, a division of Jergens, Inc. The new precision screwfeeder offers substantial flexibility combined with simplicity.

Its fully adjustable rail system accommodates up to 11 different sized screws: 1.0mm, 1.2mm, 1.4mm, 1.7mm, 2.0mm, 2.3mm, 2.6mm, 3.0mm, 3.5mm, 4.0mm and 5.0mm (#000 - #10 inches). Fasteners are presented quickly and consistently without the need for rails dedicated to specific sizes. Additionally, the new feeder has eliminated excessive vibration from the pick-up point to provide "no fumble" pick-up. Feeds most types of fasteners with less than 19mm under head length including Phillips, TORX®, or socket head fasteners. Can also accommodate screws with captive washers. The adjustable bit guide allows use of most standard bits.

ASG provides a full line of equipment and systems for precision assembly work, including pneumatic and electric torque-controlled drivers, torque testing equipment and assembly production aides. A full service repair and calibration department for all assembly products is provided.

ASG is located at
15700 South Waterloo Road,
Cleveland, OH 44110-3898.
Telephone (216) 486-6163
Fax: (216)-481-4519
E-mail: asginfo@asg-jergens.com
Web: www.asg-jergens.com
Inquiries to Jaci Schill

More from Portable Tools