Screwdrivers feature hard steel blade.
Press Release Summary: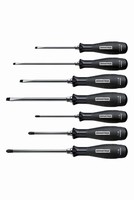 Comprising of 7 screwdrivers and 5- or 7-piece set (Cat. Nos. JSDS01 and JSDS02), Journeyman(TM) line of screwdrivers have hard steel blade machined with precision ground tip for exact fit into fastener. They feature tri-lobe handle for generating maximum amount of turning power. Tools come in various tip styles including 3/16 in. cabinet (Cat. Nos. JSD4C06 and JSD6C06), ¼ and 5/16 in. keystone (Cat. Nos. JSD4K08 and JSD6K09), and Nos. 1-3 Phillips (Cat. Nos. JSD4PH1, JSD4PH2, and JSD6PH3).
---
Original Press Release:

Klein Tools Introduces High-Performance Journeyman(TM) Screwdrivers



LINCOLNSHIRE, ILL - May 2008 - Klein Tools' new Journeyman(TM) line of screwdrivers features advanced blade technology for superior blade strength and exclusive Journeyman design for maximum turning power.

The sleek, tri-lobe handle features an ultra-comfortable soft outer grip bonded to a solid inner core for generating the maximum amount of turning power while providing exceptional control, grip and balance. Klein's patented Tip-Ident® dome mark allows for instant tip recognition and orientation for quick and accurate alignment to the fastener.

Each screwdriver in the Journeyman line, which consists of seven screwdrivers and a five- or seven-piece set (Cat. Nos. JSDS01 and JSDS02), features an exceptionally hard steel blade machined with a precision ground tip for exact fit into the fastener. The blade is reinforced by a hex-shaped bolster which provides additional strength and stability between the handle and blade.

These innovative Journeyman screwdrivers are available with the following tip styles:
3/16-inch cabinet (Cat. Nos. JSD4C06 and JSD6C06), ¼-inch and 5/16-inch keystone
(Cat. Nos. JSD4K08 and JSD6K09) and Nos. 1-3 Phillips (Cat. Nos. JSD4PH1, JSD4PH2
and JSD6PH3). Out-of-handle blade lengths are 4 inches or 6 inches.

"As we've demonstrated by our existing Journeyman product line that already includes pliers, cutters, gloves and other hand tools, the Journeyman brand offers the professional an additional level of comfort and performance. We've tapped into these brand attributes to expand our existing portfolio of high quality screwdriver products," said Vince Kendzierski, product manager, Klein Tools. "By combining the power of our Journeyman brand with our years of manufacturing experience, we are able to deliver the quality and performance professionals always expect from Klein."

Klein Tools is a leading manufacturer of professional hand tools and occupational protective equipment.

For more information on Klein Tools, please contact: Klein Tools, P.O. Box 1418, Lincolnshire, IL 60069-1418. Phone: (800) 553-4676. Fax: (847) 478-0625. E-mail: marketing@kleintools.com. www.kleintools.com.

Please send inquiries to: marketing@kleintools.com

Corporate Contact: Abby Ceppos 847.821.5500

More from Sensors, Monitors & Transducers