Screwdriver/Nutdriver offers ratcheting action on both ends.
Press Release Summary: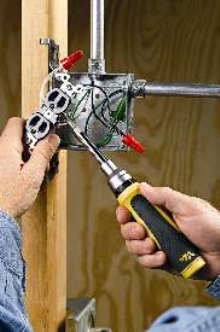 Ratch-a-Nut(TM) 9-in-1 screwdriver/nutdriver offers 3/16 and ¼ in. slotted head, No. 1 and 2 Phillips head, plus ¼, 5/16, and 7/16 in. nutdriver. Connector wrench molded into top of handle works with virtually every type of twist-on wire connector. Made of all steel components, ratchet mechanism handles 700 lb of force before failure. Tool features 2-part dual durometer grip made of Santoprene®, which is resistant to water, oils, and chemicals.
---
Original Press Release:

New IDEAL Ratch-A-Nut(TM) Ratchets on Both Ends for Faster Screwdriving & Wire Connecting


SYCAMORE, IL, JANUARY 19, 2005 - IDEAL INDUSTRIES, INC., the company that last year introduced the Twist-a-Nut(TM) 7-in-1 hand tool, has taken multipurpose tooling to a higher level of versatility with its new IDEAL Ratch-a-Nut(TM), a 9-in-1 screwdriver/nutdriver that combines all the functionality of the original Twist-a-Nut plus powerful ratcheting action on both of its ends.

Electrical contractors, maintenance professionals, and Do-It-Yourselfers will find the Ratch-a-Nut handy in a wide assortment of wire connecting and driving tasks. Best of all, because it ratchets at its top and bottom, it greatly reduces wrist fatigue when driving in screws or when installing wire connectors. Molded into the top of Ratch-A-Nut's handle, the patented connector wrench works with virtually every type of twist-on wire connector, including IDEAL's own Twister®, B-Cap®, Wire-Nut® and Wing-Nut® connectors. The user simply places the connector into the wrench and ratchets to secure a tight, long-lasting connection with minimal effort or time.

In all, the Ratch-A-Nut offers users a 3/16 inch and 1/4 inch slotted head, a #1 and #2 Phillips head, a 1/4 inch, 5/16 inch and 7/16 nutdriver, and the patented connector wrench. In addition, the Ratch-a-Nut is compatible with the IDEAL Conduit Deburring Tool and the company's 6-in-1 Tap Tool, both of which fit securely into the handle. The deburring tool and the 6-in-1 tap tool are sold separately.

HANDLES 700 POUNDS OF FORCE
According to Jon Howell, Product Manager, IDEAL INDUSTRIES, INC., one of the reasons ratcheting screwdrivers have failed in the past is because the ratchet mechanism was formed of flimsy plastic or was in some way not robust enough to handle the rigorous requirements of professional usage.

"There simply is no comparison between our Ratch-a-Nut and other ratcheting screwdrivers. Rather than plastic, the ratchet in our Ratch-a-Nut is made of all steel components and is extremely strong. It will handle 700 pounds of force before failure; the average contractor only has the hand strength to do 250. Bottom line, this is a heavy duty, professional quality tool that won't fail on the second use," notes Howell.

Rugged as it is versatile, the Ratch-a-Nut has a two-part dual durometer grip. Soft, black Santoprene® is overmolded on the outer surface of the grip for greater comfort and improved torque, while a harder, high-visibility yellow Santoprene® is used for the ends and inner surface to assure toughness. Santoprene is resistant to water, perspiration, oil and chemicals, maximizing tool service life.

MSRP of the IDEAL Ratch-a-Nut is $18.69 (U.S.).

For more information, contact IDEAL INDUSTRIES, INC., Becker Place, Sycamore, Illinois 60178. Or phone 1-800-435-0705, Fax: 1-800-533-4483. On the web, www.idealindustries.com.

IDEAL INDUSTRIES, INC. has been serving the electrical industry since 1916. IDEAL is one of the world's leading manufacturers of professional quality tools and supplies serving installation professionals in the construction, maintenance, data communications and original equipment manufacturing industries.

©2005 IDEAL INDUSTRIES, INC. All rights reserved. Ratch-A-Nut(TM), Twist-A-Nut(TM), Twister®, B-Cap®, Wire-Nut® and Wing-Nut® are registered trademarks of IDEAL INDUSTRIES, INC. Santoprene® is a registered trademark of Advanced Elastomer Systems, L.P. All products and names mentioned are the property of their respective owners. While IDEAL has made every effort at the time of publication to ensure the accuracy of the information provided herein, product specifications, configurations, prices, system/component/options availability are all subject to change without notice.

More from Machinery & Machining Tools