Screw Pumps maintain performance in adverse conditions.
Press Release Summary: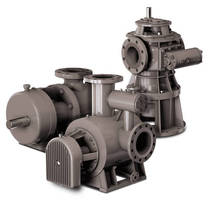 Available with or without external timing gears and bearings, S Series self-priming, double-ended, positive displacement pumps come in twin and triple screw designs that provide complete axial balancing of rotating screws. Timing technologies eliminate metal-to-metal contact with pump. ATEX-certified for use in explosive or dangerous environments, pumps address challenges found in oil and gas, process, and marine industries regardless of temperature, viscosity, or pressure.
---
Original Press Release:

Blackmer® Announces Global Release of S Series Screw Pumps



Grand Rapids, MI – Blackmer®, part of PSG®, a Dover company and a global leader in positive displacement and centrifugal pump, and reciprocating compressor technologies, is pleased to announce the global launch of its S Series Screw pumps. Launched for the North American market in July 2015, Blackmer S Series pumps are now available throughout the EMEA and Asian markets.



Available with or without external timing gears and bearings, Blackmer S Series pumps are self-priming double-ended positive displacement pumps that offer outstanding performance in the most demanding applications. Blackmer's twin and triple screw designs provide complete axial balancing of the rotating screws and their timing technologies eliminate metal-to-metal contact with the pump. S Series pumps are ATEX-certified for use in explosive or dangerous environments, and have been specifically designed to address the difficult pumping challenges found in the oil & gas, process and marine industries. S Series pumps provide solutions that can meet the toughest application challenges regardless of temperature, viscosity or pressure.



S Series pumps are offered in four distinct lines, each having multiple model configurations and sizes:



• S Series Twin Screw Pumps (WTG) are double-suction, self-priming twin screw pumps with external bearings and timing gear transmissions. They are especially suited for the delivery of fluids free of solid substances and/or with little abrasives.



• S Series Twin Screw Pumps with non-timing (NTG) gear transmission feature a single-suction design and are ideally suited for transferring lubricating fluids with higher viscosities, such as bitumen and residual oil, at medium or high temperatures.



• S Series Multi-Phase Twin Screw Pumps have been designed for medium- to low-pressure applications and are robust, reliable and built to last within the water and oil & gas industries. Multi-phase pumps are commonly used in the oilfields that have untreated streams and are ideal for higher differential pressure and higher suction pressure applications.



• S Series Triple Screw Pumps are specifically designed for handling clear, lubricating liquids without solid content in the most demanding applications. Providing a smooth constant flow across a wide range of viscosities, temperatures and pressures, these extremely efficient pumps are reliable, compact, self-priming, low noise emission and environmentally friendly.



For more information on Blackmer, please go to blackmer.com. Blackmer is a product brand within PSG®, a Dover company. For more information on PSG, please go to psgdover.com.



About Blackmer:

Blackmer® is the leading global provider of innovative and high-quality rotary vane and centrifugal pump, and reciprocating compressor technologies for the transfer of liquids and gasses. For more than a century, the Blackmer name has stood for unparalleled product performance, superior services and support, well-timed innovation and a commitment to total customer satisfaction. Supported by a worldwide network of distributors and original equipment manufacturers, Blackmer pumps and compressors are used in a multitude of applications in the Process, Energy and Military & Marine markets. Blackmer—headquartered in Grand Rapids, Michigan, USA—is part of PSG®, a Dover company.



Sales Contact:

Thomas L. Stone, PSG® Director of Marketing

PSG®, A Dover Company

616-248-9252 or tom.stone@psgdover.com



Media Contact:

Darren Wight, VP Media & Publicity

DeanHouston (agency for PSG)

513-280-0047 or dwight@deanhouston.com

More from Software