Screw Lock Coolant Nozzles offer tool-free installation.
Press Release Summary: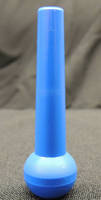 Offering alternative to traditional brass/steel balls and soft copper or aluminum tubing, Blu-Ball™ Nozzles are made of medical grade plastic with no tubing to crimp and restrict flow. Nozzles will not clog or gum up and will not scratch or mar parts. Available in variety of sizes and lengths to fit most machines, products work with water based or oil coolant and are suitable for high-pressure applications.
---
Original Press Release:

Introducing Blu-Balls® the First Alternative to Expensive Screw Lock Coolant Nozzles



After years of struggling with traditional brass/steel balls and soft copper or aluminum tubing, the folks at Telemark CNC became frustrated with constant kinking and broken coolant tubes. More often than not we were stopping production to fix a loose, broken or ineffective coolant nozzle. To further frustrate the problem we found no alternatives to the expensive brass and copper tube designs. So we developed and tested a full product line of screw lock coolant nozzles, and they work fantastic! We use them on all of our machines. Now you can change out all the old damaged coolant nozzles on your turrets with Blu-Balls without costing hundreds of dollars. 



At 20% the cost of traditional metal and copper tubing coolant nozzles, the patent pending Blu-Ball nozzles deliver superior performance in coolant management.



Blu-Balls deliver 20% more coolant then traditional ball & tube designs.

• Easy to Install – No tools required

• Fits most all machines with a variety of sizes and lengths

• No more kinked tubes

• Will not clog or gum up

• Wont scratch or mar your parts

• Works with water based or oil coolant

• Larger orifice means more coolant at the cutting site.

• Tube tips wont collapse if trimmed

• Tough design they withstand the occasional impact of tooling without kinking

• COST MUCH LESS



Check us out at www.Blu-Ball.com

Blu-Ball is a registered trademark of Telemark CNC, LLC.


More from Optics & Photonics