Screw Clamp Fuse Blocks protect 1/4 x 1 1/4 in. fuses.
Press Release Summary: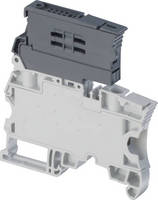 With electrical ratings of 600 V and 22 A and wire range of 24–6 AWG, ZS10-SF screw clamp fuse blocks protect ¼ x 1 ¼ in. fuses. Blocks are closed, requiring no end section; measure 0.315 in. wide; and comply with IEC 60947-7-3 standards. Design enables fuse to be safely mounted without touching any active parts. Operator snaps fuse into hooks on fuse holder door, and fuse is securely connected when door is closed. Models are available with or without blown fuse indication.
---
Original Press Release:

ABB LV Products Expands SNK Terminal Block Line with New Screw Clamp Fuse Blocks for 6.3 x 32mm (1/4" x 1 1/4") Fuses



The ZS10-SF line provides the highest electrical ratings and most compact protection in the industry; compliant with IEC 60947-7-3 standards.



NEW BERLIN, Wisc. – The ABB Low Voltage Products division has expanded its SNK series of terminal blocks by introducing the new ZS10-SF screw clamp fuse blocks, offering the highest electrical ratings and the most compact design available in the industry. At only 8mm (0.315") wide the new fuse blocks provide the slimmest protection available for 6.3 x 32mm (1/4" x 1 1/4") fuses, with electrical ratings of 600V and 22A, and a wire range of 24 - 6 AWG. The ZS10-SF blocks are closed, requiring no end section. The fuse is safely mounted without touching any active partsby simply snapping the fuse into the hooks on the fuse holder door. When the door is closed the fuse is securely connected. The new line complements the existing SNK ZS4-SF blocks which offer 5x20mm(0.197" x 0.787") and 5x25mm and (0.197" x 0.984") fuse protection.



ZS10-SF fuse blocks are available with or without blown fuse indication, and in an easy disconnect model. They have two jumper channels and accept the same jumpers and markers as standard ABB SNK terminal blocks, reducing the number the parts required for assembly and inventory stocking.



"The new ZS10-SF Fuse Terminals are a great addition to our SNK product line. They are specifically designed for 1/4" x 1 1/4" inch fuses, the most popular size in North America, and have the highest UL approved electrical ratings among leading competitors," said Mike Muradian, ABB's product marketing specialist for connection products."And at just 8mm wide, they are also the thinnest1/4" x 1 1/4" fuse terminal block in the market, requiring less Din Rail space and offering superior performance."



There are three specific ZS10-SF fuse block models:



• ZS10-SF: the standard non-indicating model.

• ZS10-SF-R: featuring a blown fuse indicator to quickly identify defective circuits:

- ZS10-SF-R1 (24 – 110V)

- ZS10-SF-R3 (115 – 250V)

• ZS10-SF-R2: featuring a disconnect lever for simplifieddisconnect operations.The disconnect lever is easily operated by hand, and wiring of the alternated disconnect and fuse circuit is simplified.



The ZS10-SF line is especially suited for the HVAC, lift, food and beverage, and traction infrastructure equipment markets. The complete SNK line is available through certified ABB channel partners.



About ABB

ABB (www.abb.com) is a leader in power and automation technologies that enable utility and industry customers to improve performance while lowering environmental impact. The ABB Group of companies operates in around 100 countries and employs about 130,000 people.



About ABB Low Voltage Products

The ABB Low Voltage Products division (www.abb.us/lowvoltage) manufactures low-voltage circuit breakers, switches, control products, wiring accessories, enclosures and cable systems to protect people, installations and electronic equipment from electrical overload.



Alex Miller  

262- 236-3710  

alex.x.miller@us.abb.com 



ABB, Inc.

Low Voltage Products

New Berlin, WI 53151

888-385-1221

www.abb.us/lowvoltage

lvps.support@us.abb.com

More from Electronic Components & Devices