Wastewater Treatment Equipment
Screenmaster® CS Wastewater Bar Screen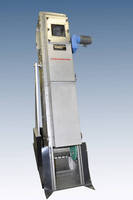 Screening Made Simple

The SCREENMASTER CS provides efficient cleaning of a bar screen rack and removal of solids from channel installations. The unit makes solids removal simple with its highly efficient operation. It employs a front clean/ front return principle, is easy to install in new or existing channels and at a 75-degree inclination, has a very small footprint.

The design features a simple, continuous rotary motion. It employs rake heads that penetrate the screen slots as they reach the channel bottom and lift accumulated debris up to a discharge height of up to 38 ft (11.6m) from the channel bottom. The screenings then drop out of a discharge chute. where they can be processed by a SPIRALIFT® SC screenings conditioner/wash or deposited into a bin or conveyor.

The SCREENMASTER is fully constructed of stainless steel for resistance to corrosion and long life. It is supplied complete with an S320 Program Controller which activates on a timed basis or when a high level is indicated by a supplied level sensor. The unit is driven by a ¾ HP-1HP motor and gear drive and is custom built for channel width and lift height.

For more information, contact Franklin Miller, Inc., 60 Okner Pkwy, Livingston, NJ 07039 USA. Phone 973-535-9200 or fax 973-535-6269. Web www.franklinmiller.com. Email: info@franklinmiller.com.

More from Agricultural & Farming Products