SCREEN Ramps Up Twin Truepress Jet L350UV+ Digital Label Presses at Labelexpo Booth 6423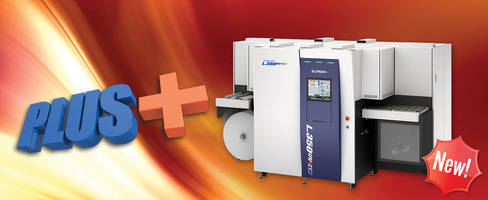 ROLLING MEADOWS, ILLINOIS — The two SCREEN Truepress Jet L350UV+ label presses that will be in full operation next week at the Donald E. Stephens Convention Center will be among the several label production solutions being showcased at the company's Labelexpo 2018 booth. But the twin machines are not identical siblings. One is the L350UV+ and the other is the L350UV+LM.
They both deliver the same, super-fast, industry-leading run speeds of up to 60 meters/min. They both feature SCREEN's famous 3-picoliter drop size and four-level grayscale technology for unmatched print quality and brilliant and wider color gamut achieved with SCREEN's CMYK+W+Orange inks. And their industry leading uptime, productivity and substrate versatility are also shared equally. The only difference? The L350UV+LM is the press equipped with Low Migration ink capabilities for food label print production.
Labelexpo attendees visiting the SCREEN exhibit will explore all aspects of digital label production from workflow to color management and enhancement to finishing. Both SCREEN presses will be printing on a wide range of label substrates that will showcase their print prowess and versatility for label print and converting operations.
In addition, SCREEN will show its proven FLEXO/Letterpress CTP technology with the PlateRite FX870 II recorder that features the company's highly respected, multi-channel laser diode for trouble-free operation and ultra-sharp imaging.
SCREEN TRUST Network Services that combine real-time assistance, remote diagnosis and user maintenance support will be demonstrated as well as SCREEN's Equios ART & UX digital-on-demand workflow. A SCREEN Partner Solutions Showcase theater will connect label print professionals with best-in-class solution providers like OneVision DigiLabel for workflow and many others to support finishing, decorating, color management, substrates and coating needs.
About SCREEN Americas
SCREEN Americas, a SCREEN Graphic and Precision Solutions group company, is a leading supplier of systems and components for the graphic arts industry in North America and South America. Its diverse line of integrated products includes digital printing systems for a variety of applications, including print on demand, variable data, flexo/packaging solutions, industrial and sign/display printing. For more information, please visit Screen's website at www.screenamericas.com.
Information Contact:
Mark Schlimme
VP Marketing
Mark.Schlimme@screenamericas.com
847-909-8435
Related