Screen Printer processes 1,200 wafers/hr.
Press Release Summary: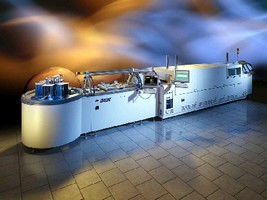 Optimized for solar cell metallization, Model PVP1200 is compatible with wafer sizes up to 125 x 125 mm or 156 x 156 mm in Square or Pseudo Square formats. Unit provides six-sigma repeatability at ±12.5 micron resolution. Handling and support mechanisms are suitable for wafer thicknesses from 1 mm down to 120 micron, which allows all stock wafer gauges to be used. Equipped with menu-driven software, printer offers 10/100 LAN connectivity and USB 2.0 interface.
---
Original Press Release:

High-Speed Solar-Cell Metallization Platform Cuts Delivery Times, Leverages Global Support Infrastructure



Heralding a new era of responsive and flexible metallization solutions available at fast turnaround, DEK has introduced the PVP1200 screen printer capable of 1200 wafers-per-hour throughput and offering advanced automated features for high speed and repeatability. The first showing of this new printer will be at BTU's Solar Lab Grand Opening, in Shanghai, 18-19 March 2008.

The PVP1200 is built using expertise gained from DEK's established high-accuracy screen printing platforms, proven in surface-mount assembly and chip-scale semiconductor packaging. Six-sigma repeatability at ±12.5 micron resolution demonstrates capability in advance of current requirements for solar cell front-side and back-side metallization. DEK can also deliver the PVP1200 within shorter lead-times than the current industry norm, taking advantage of shared-platform technology and high modularity to quickly configure new machines to meet custom specifications.

"Global demand for solar cell products is now in hyperdrive, and manufacturers need high-productivity solutions delivered on a short turnaround basis," said Darren Brown, Alternative Energy Business Development Manager, DEK. "The PVP1200 offers clear performance advantages over competing solutions. In addition, customers will enjoy world-class back-up through our global customer support infrastructure, as well as a well defined roadmap to higher performance in the future. Many enhancements to boost speed and productivity, including dual-lane printing and extended printable area, are already proven in electronic assembly and semiconductor packaging applications."

Specially optimised for solar cell metallisation, the PVP1200 is compatible with wafer sizes up to 125mm x 125mm or 156mm x 156mm in Square or Pseudo Square formats. The handling and support mechanisms are suitable for wafer thicknesses from 1mm down to 120 micron, which allows all stock wafer gauges to be used including the latest ultra-thin and lightweight wafers. For maximum accuracy and repeatability when depositing features ranging from sub-100-micron current collectors to low-resistivity bus bars, the PVP1200 printer is directly compatible with emulsion screens designed and produced in-house by DEK's proven screen manufacturing facility. Built using high-quality materials and precision automated equipment, and within class 10,000 cleanroom conditions, the screens are orderable on a fast-turnaround basis and deliver long life with high dimensional stability.

Special features of the PVP1200 for solar cell applications include dedicated handling for thin wafers, ensuring low breakage rates for maximum yield, as well as high-speed machine vision capabilities. These allow non-contact alignment referenced to all four edges of the substrate. Standardised machine interfaces also enable easy integration with inline equipment such as an upstream loader and downstream inspection station.

The PVP1200 is easy to set-up and use, with menu-driven software enabling intuitive control of complex processes via a full-colour TFT-LCD touchscreen. Other management and communication facilities include on-board Statistical Process Control (SPC) software, integrated 10/100 LAN connectivity and a USB 2.0 interface.

Standard services required are 110-240V single-phase AC mains and ISO 8573.1 Standard Quality Class 2.3.3 air supply at 4-8 bar.

The PVP1200 can be ordered individually for integration into an existing line or with customers' preferred companion equipment, or as part of the new PV1200 full metallisation line solution, also announced by DEK in conjunction with its drying-technology partner BTU.

About DEK
DEK is a global provider of advanced pre-placement manufacturing solutions and innovative deposition technologies for a wide range of electronic materials. For more information, visit DEK at www.dek.com.

Company Contact
Karen Moore-Watts
DEK
Tel. +44 1305 760760
Email: kmoore-watts@dek.com
Internet: www.deksolar.com

More from Services