Screen Machine Industries Specifies Volvo Penta Tier 4 Final Engine for New Rock Crusher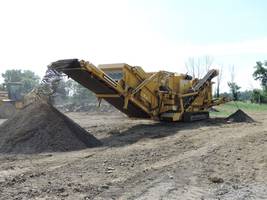 Machine to be Unveiled at CONEXPO-CON/AGG 2017
(CHESAPEAKE, Va.) – March 6, 2017 – Screen Machine Industries has selected Volvo Penta to supply EPA Tier 4 Final engines for its new 4043TR-series rock crushers. The new machine, powered by a Volvo Penta 360 hp TAD1171VE engine, will make its debut at CONEXPO-CON/AGG in Las Vegas March 7-10 – Booth C32313.
Volvo Penta's emission-reduction technology and service support are rapidly winning converts in the industrial engine marketplace, according to Darren Tasker, vice president of industrial sales at Volvo Penta of the Americas. A key reason is the fuel efficiency and company's SCR emission-reduction technology that reduces downtime and cost of ownership.
"Volvo Penta has an excellent reputation around the industry with reliable engines that reduce fuel consumption and maintenance," said Mauricio Escobar, COO and engineering director at Screen Machine Industries. "Volvo Penta's engineering team worked hard to meet our aggressive schedule for rolling out the new 4043TR crusher at CONEXPO-CON/AGG; we required some very specific design requests that Volvo Penta was able to accommodate while keeping to our schedule. We found them to be very receptive to our needs."
Screen Machine expects to incorporate Volvo Penta's Tier 4 Final engines across other machines in the future, according to Escobar.
Founded in 1966, Screen Machine is a leading manufacturer of portable machinery for material crushing, screening, recycling and stockpiling. Screen Machine has over 125,000 square feet of advanced manufacturing capabilities at its Columbus, Ohio headquarters. The company offers a complete line of cone, jaw and impact crushers, screen plants, scalpers, trommels and conveyors.
Volvo Penta will be exhibiting alongside sister company Volvo Construction Equipment at the 2017 CONEXPO-CON/AGG in Las Vegas. Visit North Hall Booth 10036 for more information about the company's range of industrial engines for power generation and powertrain applications.
About Volvo Penta
Volvo Penta, with 3,500 dealers in more than 130 countries, is a global manufacturer of engines for leisure boats and commercial vessels, as well as industrial applications. The propulsion program includes diesel and gasoline engines with power outputs between 10 and 900 horsepower. Volvo Penta is part of the Volvo Group, one of the world's leading manufacturers of heavy trucks, buses and construction equipment.
For further information, please contact:
Christine Carlson
Volvo Penta of the Americas
Phone: +1 (757) 382 4084
E-mail: christine.carlson@volvo.com
More from Software