Screen Classifying Cutter delivers uniform particle sizes.
Press Release Summary: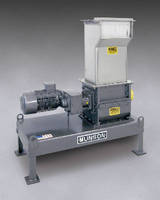 Equipped with direct-coupled, gear-reduced drive that rotates shaft at speeds down to 10 rpm, Model SCC-15-SS reduces hard materials and friable products into controlled particle sizes down to 20-30 mesh. Rotor design is comprised of cutter bits attached to helical array of staggered holders, called interconnected parallelograms, which continuously cut and crush materials against twin, stationary bed knives. Cutter's 15 in. throat width accommodates up to 30 parallelograms with 60 bit inserts.
---
Original Press Release:

High-Torque Screen Classifying Cutter



UTICA, NY - A new high-torque, low-speed model SCC-15-SS Screen Classifying Cutter reduces hard materials and friable products into controlled particle sizes.

A proprietary rotor design is comprised of cutter bits attached to a helical array of staggered holders called "interconnected parallelograms," that continuously cut and crush oversize materials against twin, stationary bed knives.

Unlike high-shear cutters that rotate at high speeds, the high-torque cutter is equipped with a direct-coupled, gear-reduced drive that rotates the shaft at speeds down to 10 RPM to cut or crush tough materials using low shear, and/or to minimize fines when cutting friable materials.

The cutter bits, which are available in stainless steel, tool steel and tungsten carbide, can be slid onto holders and secured with one retaining socket-head screw, allowing rapid replacement.

The SCC-15-SS positions the bits along the entire shaft, with no frontal gaps, reducing material into uniform pieces with minimum imperfections or fines, and little to no generation of heat.

The new cutter has a 15 in. (381 mm) throat width that accommodates up to 30 parallelograms with 60 bit inserts. Perforations of the bed screen range from 1/32 to 1-1/2 in. (0.79 to 38 mm) in diameter and up to 3 in. (76 mm) square, allowing the reduction of materials into uniform particles in sizes down to 20-30 mesh.

Material is fed through the top of an adjustable, double-baffled intake chute, or directly into the front of the chute through a hinged door. An independently powered, variable speed pinch roller is offered for horizontal feeding of material. Discharge is via gravity, pneumatic transition or independently powered belt or screw conveyor.
Applications include a diversity of chemical, mineral, foundry and plastics materials.

Also offered are SCC-10, -30, -48, -60 and -72 models with 10.5 in. (267 mm) diameter rotors and throat widths of 10 in. (254 mm), 30 in. (763 mm), 48 in. (1219 mm), 60 in. (1524 mm) and 72 in. (1829 mm) respectively. High-speed, belt-driven Screen Classifying Cutters are offered for high-shear cutting of foods, chemicals, minerals, plastics/regrind, foundry materials, wood chips and fiberglass insulation.

All are offered in carbon steel, abrasion-resistant steel and stainless steel finished to industrial or sanitary standards.

Other size reduction equipment manufactured by the company includes Pin Mills, Rotary Lump Breakers, Attrition Mills, Hammer Mills and Shredders. Blending equipment for dry bulk materials includes Rotary Batch Mixers, Continuous Rotary Blenders, Vee-Cone Blenders, Ribbon/Paddle/Plow Blenders, Fluidized Bed Mixers and High Intensity Blenders.

For information contact Munson Machinery Company, Inc., 800-944-6644, info@munsonmachinery.com, www.munsonmachinery.com

More from Material Handling & Storage