Scrap Chopper facilitates recycling of plastic and PET banding.
Press Release Summary: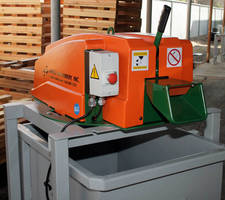 Model 450 DX handles high volumes of ¾ in. steel banding with clips, plastic banding, lightweight wire, and other manufacturing byproducts. Single-drive feedworks and infeed width aid feeding of scrap material, accommodating large handfuls at ~106 fpm. One stationary and one rotating knife provide cut length of ~3 in., while 1 hp motor and external flywheel provides cutting capacity for tough materials. Unit also accommodates in-line placement to process slitter-line trim and tube scarf.
---
Original Press Release:

Recycling Plastic and PET Banding is Now More Efficient & Affordable



Gold Hill, OR – Companies in all industries are finding that scrap choppers are a very cost effective way to efficiently dispose of steel or plastic banding, light weight baling wire, and even slitter trim or tube scarf scrap; choppers help meet waste recycling obligations and reduce disposal fees, while adding re-sale value to waste product.



Sweed Machinery has been the leader of the scrap chopping industry for over 50 years, providing companies with cutting-edge technology in this industry. Recently, Sweed has revamped their scrap chopper Models 450 WM and 450 WM XHD; combining the best of both units into the newly designed Model 450 DX. This new chopper model unites the scrap chopping benefits of both previous Model 450 WM and Model 450 WM XHD into one unit and is quickly becoming a staple for companies who are generating a significant amount of manufacturing byproducts.



The 450 DX Sweed™ Scrap Chopper is the (now) preferred chopper to tackle high volumes of ¾" steel banding with clips, plastic  banding, light weight wire and other various manufacturing byproducts. It is also very versatile, making it an excellent chopper for in-line placement to process slitter-line trim and tube scarf (replacing traditional winders).



The 450 DX features a single-drive feedworks with a wide infeed, which makes feeding the scrap material an effortless task for the operator; allowing a user to feed large handfuls at once at approximately 106 FPM.  The one stationary and one rotating knife provide a standard cut length of about 3 inches, and a 1 HP motor and external flywheel provides extra cutting capacity for tougher materials. The 450 DX can also be customized for inline applications requiring tension control and custom scrap cut lengths. This unit sits on a sturdy Sweed stand that moves from area to area on stout caster wheels that is designed to sit over a Sweed self-dumping hopper. Both the stand and the hopper are sold separately.



Additional benefits of a scrap chopper include reclaiming space for production, aiding in workplace safety and housekeeping, reducing dumping fees, and achieving zero-to-landfill goals.



Contact Sweed Machinery for more information:

Toll free: 1-800-888-1352

Phone: 541-855-1512

Website: www.sweed.com

Email: 

[email protected]