SCR Power Controllers suit embedded OEM applications.
Press Release Summary: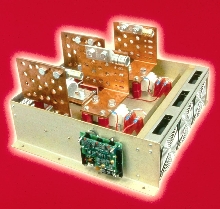 Compact MaxPac family of silicon controlled rectifier power controllers are 30 percent smaller than similar systems. Family includes controllers for single-phase, 3-phase/2-leg, and 3-phase/3-leg configurations. Controllers provide power control output from 120 to 575 Vac at 100 to 1200 A, and are suitable for high-power resistive and infrared heating in industrial applications. Each has temperature warning and shutdown system.
---
Original Press Release:

New Chromalox(R) Maxpac(TM) Power Controllers Feature 30 Percent Smaller Footprint And Help Reduce Heating System Costs


PITTSBURGH, January 9, 2002 - Chromalox, a leading supplier of industrial heating solutions, announces the MaxPac family of compact Silicon Controlled Rectifier (SCR) power controllers designed for ease of installation and operation. With a footprint approximately 30% smaller than competing systems, it is especially well suited for embedded OEM applications.

The MaxPac family includes controllers for single phase, three-phase/two leg, and three phase/three leg configurations. They provide power control output from 120 to 575 VAC at 100 to 1200 A, and are suitable for high-power resistive or IR (infrared) heating in industrial applications. MaxPac controller prices start at $960 for single-phase 100 Amp models.

In addition to a small form factor, a standard feature of MaxPac is a unique temperature warning and shutdown system. When an electronic temperature sensor on the heat sink registers an overheat condition, the user is notified via a contact closure. If the condition worsens, the system will shut down automatically. This approach allows earlier corrective action compared to competitive products that use a simple thermostat and shut down the system without advance warning.

The MaxPac family simplifies installation while improving performance with its optional plug-in card for shorted SCR detection. This retrofitable card has an auto-configuration feature that provides detection of shorted SCRs and the circuit legs in which they are located. This reduces down time costs in critical applications.

The MaxPac design includes additional safety features, such as input to output isolation, transient overvoltage protection, and remote shutdown capability. On MaxPac controllers rated up to 650 A, safety is enhanced with grounded heat sinks. For added safety, an optional Touch-Safe stainless steel enclosure is available. Compression lug connectors reduce the potential for wiring hot spots and are more secure than the bolted lug connectors used on many other systems.

Another way in which MaxPac reduces costs is its use of an integrated power distribution. This speeds up installation compared to other SCR controllers that require the purchase and wiring of a separate distribution blocks. In contrast, MaxPac allows the user to quickly and easily connect power outputs directly to each circuit. MaxPac SCR controllers will be of particular interest to OEMs that manufacture industrial heating equipment such as ovens, kilns, environmental chambers, and furnaces. The MaxPac products can be incorporated into power generation equipment, automotive finishing systems, process and duct heating applications, thin film manufacturing, glass manufacturing, and portable spot-heating equipment. End users upgrading any of this equipment will also benefit from a MaxPac installation.

The MaxPac series of SCR controllers offers users a choice of on/off or proportional control, and Chromalox's exclusive DOT (Demand Oriented Transfer) firing. The exception is the MaxPac IP single-phase controller, which offers phase angle firing with soft start and current limit. Demand Oriented Firing Chromalox DOT firing is designed for applications where consistent heater/process temperature is critical. It switches the fewest number of cycles to provide the most precise zero crossover control. For example, at 50 percent output the unit's output alternates between three electrical cycles on and three electrical cycles off. At 51 percent, the output continues with three cycles on/off and gradually integrates extra "on" cycles for the additional one percent. With the exception of phase angle firing, DOT firing is the most precise method of SCR control. DOT firing is preferred in many applications because phase angle firing may create excessive RFI.

Chromalox's MaxPac SCR Power Controller meets global standards for safety and quality. The MaxPac I, MaxPac H, and MaxPac III models carry UL, CE, and CUL certification. The MaxPac IP carries UL and CUL certification.

About Chromalox, Inc. For more than 80 years, customers have relied on Chromalox for the utmost in quality and innovative solutions for industrial heating applications. Chromalox manufactures the world's largest and broadest line of electric heat and control products, including heating components, immersion heaters, circulation systems, heat transfer systems, boilers, industrial and comfort air heating, heat trace cables, sensors and precision electronic controls. With multiple manufacturing, engineering, warehousing and sales locations throughout North America and Europe, Chromalox is a global supplier providing the highest level of customer support. Chromalox is headquartered in Pittsburgh, PA.

Products and company names listed herein are trademarks or trade names of their respective companies.

More from Machinery & Machining Tools