Scott Health & Safety is Defining the Future of SCBA Again and Again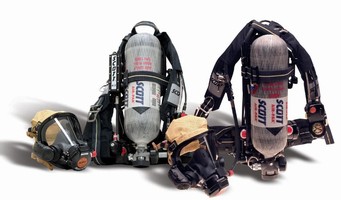 Scott is the first SCBA manufacturer to receive complete NFPA 1981 & 1982:2007 Edition Approvals on two SCBA models

DATELINE (September 17, 2007) - Scott Health & Safety is proud to announce that both of its two newest models of Air-Pak® SCBA's - the Air-Pak 75(TM) SCBA and the Air-Pak NxG7(TM) SCBA - are now fully approved for NFPA 2007 edition, 1981 and 1982 standards. With this announcement, Scott is now the only SCBA manufacturer with complete NFPA 2007 edition approvals on two different models of SCBA, providing firefighters with multiple purchasing options with an array of features not available on any other SCBA.

The availability of these two Air-Pak SCBA models continues the Scott tradition of meeting the myriad needs of fire departments across the country. "Based on our long standing history and relationship with, and knowledge of the fire service, we knew it was important to provide firefighters with multiple options, in both models and features, as we developed these two new SCBA's," said Tom Korb, Fire Service Marketing Manager for Scott Health & Safety. "Since 1945, Scott has been able to meet and exceed those needs, manufacturing Air-Pak SCBA's of unmatched reliable performance and rugged dependability with each subsequent model - including these two newest models."

The Air-Pak 75 SCBA (named in honor of the company's 75th anniversary) and the Air-Pak NxG7 SCBA were designed based on the "voice of the firefighter" and incorporate the most advanced materials and technologies available today. Both models offer the time-tested legendary features the fire service has come to trust from Scott - Top-Down Convertibility(TM), the easy breathing EZ-Flo® Regulator, HUD integrated electronics, an array of cylinder options and CBRN approval, all coming together to form the best SCBA system in the world.

The Air-Pak 75 and the Air-Pak NxG7 SCBA models are designed to meet all the new stringent performance requirements of the new standard, but according to Mr. Korb, "We looked to developing technologies and features that would take today's SCBA technology to the next level - beyond the current standard - as we have done with every model of Air-Pak SCBA for the past 60 years."

As part of the new NFPA 2007 edition requirements, both models of the Air-Pak SCBA provide on-board datalogging of the most current 2,000 events, including PASS activation, low battery indication, and PASS alarms. With the Scott Pak-Link(TM), the time/date stamped information can be easily and non-intrusively downloaded wirelessly for record keeping.

In addition to the new additions required by the 2007 NFPA standards, the new models of Air-Pak SCBA's feature new components unique to any other SCBA, including a drag rescue loop, carrying handles, and the integrated Pak-Tracker(TM) Locator system - a revolutionary RF-based distress alarm system designed to help locate downed, trapped or lost first responders in single or multi-story structures.

Scott Health & Safety has already begun manufacturing the previously NFPA-approved Air-Pak 75 SCBA, and will begin the manufacturing process for the newly approved Air-Pak NxG7 to meet the growing demand for this model of SCBA.

With the new added features and the 2007 NFPA design, both the Air-Pak 75 and Air-Pak NxG7 SCBA's are positioned to define the future of SCBA technology for years to come. For more information about the new Scott Air-Pak SCBA's, visit the new Air-Pak SCBA website at www.futureairpak.com or the company's website at scotthealthsafety.com.

About Scott Health & Safety

Scott Health & Safety, a business unit of Tyco International, is a premiere manufacturer of innovative respiratory and other personal protective equipment and safety devices for firefighters, industrial workers, police squads, militaries, homeland security forces, and rescue teams around the world. With five global manufacturing locations, Scott produces products that protect thousands of individuals each day from environmental hazards including smoke, toxic fumes, combustible gases, falling objects, and contaminants. The Scott product line includes self-contained breathing apparatus, supplied air and air-purifying respirators, gas detection instruments, thermal imaging cameras, and firefighter locators.

About Tyco

Tyco International Ltd. is a global, diversified company that provides vital products and services to customers around the world. More information on Tyco can be found at www.tyco.com.

More from Electrical Equipment & Systems