Scotchman Industries Introduces 3 New Ironworker Options and Features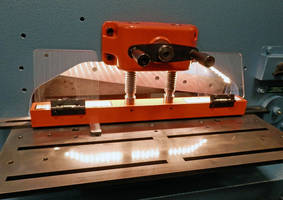 Philip, South Dakota: Scotchman Industries released 3 new options now available for current ironworker models. Designed to make Scotchman hydraulic ironworkers more efficient and user friendly, these features include:
New LED Work Lights For Scotchman Ironworkers
Light-up your Scotchman ironworker with these new, low profile LED work lights. Available on all current models located in the following workstations:
PF45: Located on the Punch Station
5014-ET: Located on the Punch and Shear Station
50514-EC: Located on the Punch, Shear, and Notcher Stations
6509, 9012,12012, all Dual Operator (DO) models, & F185: Located on the Punch and Shear Stations
ShearMaster: Located in the Shear Station
Note: All work lights are currently factory installed. Optional retrofit kits are available for infield retrofitting to existing Scotchman Ironworkers.
See video: https://www.youtube.com/watch?v=yBINMhsHY-M
Jog Motor Control Now Available On Scotchman 50-Ton Ironworker
Increase precision when setting the stroke control on your 50-ton Scotchman ironworker by adding this jog motor control to your new machine. This feature is especially helpful aligning and positioning tools accurately and while doing regular machine maintenance.
See video: https://www.youtube.com/watch?v=q2UTvsJL0rs
New Scotchman Snap Ring Removal Tool
The Scotchman engineering team has designed another winner -- the new Scotchman Snap Ring Removal Tool for #20 punches. Makes an otherwise tedious task fast and easy. Sold separately or included with the purchase of a #20 Punch and Die Package.
See video: https://www.youtube.com/watch?time_continue=2&v=7_mZKpk531k
Scotchman is the most trusted hydraulic ironworker manufacturer in the USA and also builds a complete line of Circular Cold Saws: manual to fully automatic. Plus Scotchman is a distributor of quality Digital Measuring Systems, Band Saws, and Tube & Pipe Notchers/Grinders. 
Contact Scotchman Industries is a leader in tool technologies. For more information about their Metal
Fabricating Solutions, visit www.scotchman.com Email: info@scotchman.com, or call TOLL FREE at 1- 800-843-8844 or DIRECT at 1-605-859-2542.
Contact: Christopher Madison
Anderson-Madison Advertising, Inc.
4600 West 77th Street, Suite 335
Edina, Minnesota 55435
Ph: 952-835-5133
Email: chris@andersonmadison.com
Contact: Jerry Kroetch, President
Scotchman Industries, Inc.
180 E. Hwy 14
P.O. Box 850
Philip, SD 57567
Ph: 800-843-8844
E-mail: info@scotchman.com
Website: www.scotchman.com
More from Agricultural & Farming Products