Scotchman Features the AL100U-02 Pipe Notcher by ALMI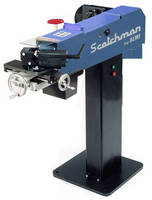 Scotchman Metal Fabricating Solutions features the Scotchman AL100U-02 Pipe Notcher/Grinder.  This pipe notcher is top quality, economical and great for high production, and is an efficient abrasive pipe grinder for the notching of gas pipes, steam pipes, stainless steel pipes, and many other types of pipes.  Wherever pipes need to be welded together at an angle, Scotchman pipe notching machines ensure that the correct cope is made quickly and accurately and are ideal for double corner joints.



The construction quality of a welded tube depends largely on correct preparation.  With the Scotchman abrasive pipe notcher/grinder, quality is easily achieved.  Just place a pipe in the clamp, which is mounted on a compound carriage and grind a diameter and/or any shape of pipe accurately and efficiently to the desired angle.  The abrasive grinders are sturdy, precise machines which operate at high speeds so stainless-steel sections can be machined problem free without grinding burrs or heat discoloration.  These machines are constructed so the grinding roller and the grinding belt can be changed easily and quickly without tools, saving you time and money. 



The Scotchman Pipe Notchers by Almi are easy to use, quick & efficient. An inexpensive cost saver that is accurate on all material thicknesses and all types of material.  They are easy to operate and are ideal for tubes and sections.  The grinding rollers are easy to change; the grinding belt is quickly tightened and easily adjusted.  Once the sections of pipe have been ground they can be deburred using the handy deburring table on top of the machine.  Scotchman Pipe Notchers are backed with Scotchman's Best-in-the Business, 3 Year Warranty.



Scotchman Industries was founded in 1967, and has been providing quality materials and construction, dependable performance, competitive pricing, and service to its consumers ever since.  As the world and its markets change and expand, Scotchman Industries continues to grow and adapt.



Contact Scotchman Industries, a leader in tool technologies, for more information about their Metal Fabricating Solutions.  Visit www.scotchman.com , info@scotchman.com, or call TOLL FREE at 1-800-843-8844 or DIRECT at 1-605-859-2542.