Scot Forge's New Sound-Centered Forged TARTAN BARS & Trade; Offer Superior Strength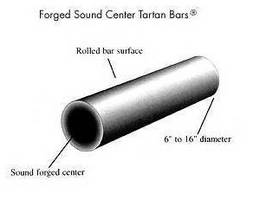 Scot Forge, a leading manufacturer of large forged round bars, now offers revolutionary new TARTAN BARS® featuring high-strength sound forged centers, rolled bar surface quality, and extremely tight dimensional tolerances. Offered in a wide variety of sizes and grades, TARTAN BARS are available at prices competitive with standard rolled bars and in quicker turnaround times, due to their highly efficient production on an advanced new bar mill.

TARTAN BARS start with ferrous or non-ferrous ingots, rough forged on an open die hydraulic press to achieve forged center soundness. They are then rolled, in less than 3 minutes, in the new bar mill to diameters ranging from 6" to 16¼" (150mm-413mm). Specially shaped roll grooves provide for a stepless adjustment to any bar diameter with surface quality comparable to that on standard rolled bar, but with dimensional tolerances held to half those of AISI tolerances.

Directly after rolling, a hot abrasive saw cuts the bars to size, with the capability of cutting through a 16" round in less than a minute. Bars are then marked as specified by an automated programmable stamping system, and proceed to an automatic uniform cooling bed designed to maintain bar straightness.

TARTAN BARS may be manufactured to near net shape, with less excess material than traditional bars. They may be produced in high volumes, or in quantities as small as the product of one ingot. In-house heat treating and bar peeling are also available.

More from Software