ScorCreative at Amcor is Recipient of A' Design Award for Redesign of Hoist Sports Beverage Container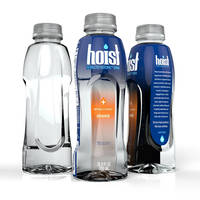 New 16.9oz Ambient-Filled Bottle Elevates Brand and Enhances Competitiveness in Sports Drink Category



ANN ARBOR, Mich. – ScorCreative at Amcor, the award-winning structural design studio co-located at Amcor Rigid Plastics, has been recognized by the A' Design Award Competition, an international design contest based in Como, Italy. ScorCreative captured an A' Design packaging award for its innovative redesign of the Hoist rehydration/sports drink bottle from Hoist LLC, Cincinnati, Ohio.



ScorCreative created a new ambient-filled 16.9oz (500ml) polyethylene terephthalate (PET) package that effectively competes with existing 20oz rehydration sports drink offerings. Hoist is said to be a true isotonic that offers rapid rehydration, versus hyper- or hypo-tonics which are less effective rehydration solutions. The brand's original package was a short, stout 12oz container that picked up steam in the medical market but lacked penetration in the sports drink space.



"We completely redesigned the primary package, recommended moving up to 16.9oz, revisited their branding, and even changed the tagline," explained Damien Moyal, the senior design lead for ScorCreative who spearheaded the project. "We're very proud of our redesign which basically re-positioned and elevated the brand so it could effectively compete in the sports drink market."



Since the project targeted active, athletic consumers, ScorCreative explored silhouettes that communicated fitness, and were lean and svelte in form. Gender-neutral designs were developed, conveying movement and energy. Most importantly, ScorCreative incorporated panels that currently serve no performance function since the product is cold-filled. But if the brand gains traction and increases volume, Moyal believes the panels can absorb vacuum if the product ever moves to a hot-fill process (when vacuum becomes a concern).



To make the package cost-effective and quick to implement, ScorCreative ensured that the design was compatible with existing preforms. The new Hoist bottle is designed to run on existing filling lines with minimal changeover.



The injection-stretch blow molded container features a 38mm finish and partial shrink wrap label. Hoist premium hydration - available in starfruit, strawberry lemonade, and orange - will be commercially available at retail stores in the Midwest and Southwest (TX, AZ, NM, CO, OK).



About Hoist                                                                                                                             

Hoist LLC, based in Cincinnati, Ohio, is the maker of Hoist rehydration/sports drink brand - ounce for ounce, the best hydration beverage on the market. Its isotonic formula provides instant hydration, naturally. Plus, Hoist doesn't contain any added colors or high fructose corn syrup. Learn more at www.drinkhoist.com.



About A' Design Award Competitions                                                                                         

A' Design Award and Competitions, based in Como, Italy, aims to highlight the innovation and unique qualifications of today's best designs, design concepts, and design-oriented products. The awards, which attract entrants from around the world, are given annually in multiple categories to reach a wide design-focused audience. Learn more at www.whatisadesignaward.com.



About ScorCreative at Amcor

ScorCreative at Amcor is the structural design studio co-located at Amcor Rigid Plastics' celebrated R&D and Innovation Center in Ann Arbor, Mich. The group delivers technically informed and brand-savvy packaging solutions for world-class brands. It is a multi-disciplinary studio teeming with passion for great lines, compelling stories, and surprising, strategic problem solving. ScorCreative designers impart mojo from myriad backgrounds – from automotive and furniture design, to brand architecture and interior design – and are redefining the culture, model, and expectations of a supplier-based design firm. The agency has an all-access pass to Amcor's R&D expertise which means designs are not only successful for the brand and consumer, but complete with industry-leading innovation.



Amcor Rigid Plastics

Amcor Rigid Plastics is among the world's largest manufacturers of plastic packaging for the food, beverage, spirits, personal/home care, and healthcare industries with 60 facilities in 13 countries. Amcor Limited is a global leader in responsible packaging solutions, employing more than 27,000 people worldwide, operating in over 40 countries across 180+ sites. Amcor supplies a broad range of plastic (rigid and flexible), fibre, metal, and glass packaging solutions to enhance the products consumers use in everyday life. Amcor also provides packaging-related services that help customers succeed through collaboration and innovation driven by art and science. Amcor is headquartered in Melbourne, Australia, and is listed on the Australian Securities Exchange. For more information, visit www.amcor.com.



More from Laboratory and Research Supplies and Equipment