Scissor Lift Tables offer capacities from 1,000-12,000 lb.
Press Release Summary: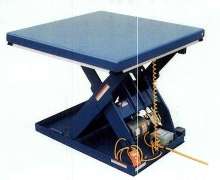 Electric/Hydraulic Series EHLT positions products at ergonomic working height, eliminating bending and lifting, to prevent back injuries. Safety features such as perimeter pinch point toeguards, emergency stop internal brass velocity fuses, 24 V controls, and maintenance safety supports make tables fully OSHA and ANSI compliant. User may choose motor voltage and phase.
---
Original Press Release:
Full-Featured Electric/Hydraulic Scissor Tables

VESTIL SCISSOR TABLES ARE PROUDLY MADE IN ANGOLA, INDIANA USA!

When thinking of an Electric Hydraulic Scissor Table keep Vestil in mind; Safety Features, Standard "Options", High Quality, Full-Line of Sizes and Capacities, Custom Sizes Available, Quick Lead Times, Made and Shipped from Angola, Indiana.

The Electric Hydraulic Scissor Lift Table, model EHLT, is designed to position products at an ergonomic working height while eliminating bending and lifting to prevent back injuries. Our tables are available with capacities ranging from 1,000 pounds up to 12,000 pounds.

"Safety" is one of the key elements we focus on when designing our Scissor Lift Tables. Standard essential safety features include: Patented Perimeter Pinch Point Toeguards, Emergency Stop Internal Brass Velocity Fuses, 24 Volt Controls and Maintenance Safety Supports making these tables fully OSHA and ANSI compliant. Your customer may also choose the motor voltage and phase at no additional cost.

Many companies may offer these features to you at an extra charge. Vestil Manufacturing Company works hard to give you the most value for your money, while always keeping safety first.

Since we manufacture these tables at our Angola, Indiana factory, we can offer you custom sizes and configurations.
We also stock ten models that are ready in 48 hours for quick shipment. These models are available with capacities of 3,000 or 4,000 pounds with different platform sizes.

Please find the Anatomy of a Scissor Lift Booklet and Scissor Table Product Literature enclosed for your review. Feel free to contact me TODAY for additional information, or digital images.

Linda Grogg

Vestil Manufacturing

(800) 348-0868, extension 363

E-mail: linda-grogg @ vestil. com
More from Materials